The interplay between the sensing right brain and the analytical left brain happens automatically. You can also make this short journey a conscious process. When you do, you'll start having even more fun with your creative endeavors. We love to feel emotional connections, and the curious mind is fascinated by the way things line up and make sense.
The daily question of "What should I wear today?" is in itself a mini design project. The weather and what you will be doing figure into this decision as well as your mood. Some days finding something clean is challenge enough, other mornings you feel like playing with your jewelry. The next time you make a wardrobe selection, notice how you mix practicality with invention. Enjoy the seamless way you can move back and forth.
I recently had the opportunity to speak to a group of women and men at the lovely Hospice House here in my community. We put this hemisphere-hopping immediately into practice using swatches of colors, identifying both their name and the sensation they engendered. Next we moved on to looking at magazine layouts. There is powerful magic in choosing your favorite images and later seeing how they to manifest in your life. You can also dialogue with your images and learn more about what your spirit is longing to express.
After all of this free-flowing fantasy, it was time to get down to the how-tos of creating a wardrobe, and the audience was ready with their questions. The same concerns are expressed at every talk and every interview I do.
Where do you shop? How can I find something I actually like?
How do you organize your closet? By color or type of clothing?
What do you think about hair color?
Am I supposed to be wearing Spanx?
What is considered age appropriate dressing?
My answers to these questions always advise a blend of practicality combined with a curious and positive interaction with your reflection. How does something make you feel? Are you tired of coloring the grey or tired of looking drab because you don't? When you look in your closet what garments just bum you out? Age Appropriateness: If you don't burst out laughing when you look in the mirror then you are fine. Regarding the evil shapewear, if your clothes fit properly you shouldn't need it.
When you are thinking about your spring/summer wardrobe, move between the creative and the practical. Spend moments in the deliciousness of sensing and follow your attractions where they lead. Shift into the practical considerations, and make a few notes or do a bit of closet weeding. No need to arm yourself as if getting ready to do battle. Your goal is to discover the playfulness in the process as you move forward creating splendidly satisfying results.
Allow yourself to approach this, and every challenging project you care about, in this same conscious way. If the Critic or the Perfectionist or the hopeless "I Can't" demon arrives, switch hemispheres and go to your creative side. Lose yourself, and when you return finding constructive solutions will seem simpler.
News from the Fashion Front:
I've been out shopping and love what I've been seeing! Here are some of the highlights:
Color: Toned greys and muddy greens have given way to flower-like freshness. Peach, coral, seafoam, lavender, rose, and periwinkle look so inviting! Bold brights make a statement in colbalt, turquoise, tangerine, canary and hot pink.
Colored jeans are fun, especially if you can combine them with a flattering color near your face. Printed jeans are in every line from NYDJ to Paige. I'm fond of the subtle screened prints that look like lace or soft patterns.
Shape: There are skirts galore, and uneven hemlines that dip in the back look Euro-cool. Floaty, ankle length skirts and dresses are easy and can be worn with flats. It looks like a great season for relaxed shirtwaists and shifts; worn now with leggings, and sandals as the weather warms. Dresses and tunics with pleats, peplums, lace, crochet, and floral prints are hitting stores now. Yippee! Anchor a wild print with a solid sweater or jacket, and add a long necklace for balance. I have a beautiful collection from my jewelry designers.
The sleeveless vest or blazer is the newest silhouette. It is a great layering piece, gives structure, and is or a cool look if you want to show off your arms.
Where I shop: When I work with clients I typically look for a big selection and good value. I also like a no-hassle return policy. Instead of waiting until the end of the season to start marking down merchandise, the major department stores and chains now offer early season specials of up to 40% off new merchandise.
At Macy's Union Square, the Sanctuary line has some gorgeous colors and Free People, Kensie and French Connection are full of the usual spirited fun. Eileen Fisher has some new and innovative silhouettes. Lauren's Denim and Supply is great for hip casual play clothes. J Crew, Gap and Banana Republic have lots of great color, mostly in solids and stripes. A colorful tee shirt is a great way to freshen up your winter basics.
When I have an afternoon to spend on myself, I "shop local" and visit my favorite small boutiques. Congratulations to those shops that have weathered the recession and are here to brighten our lives with their unique offerings!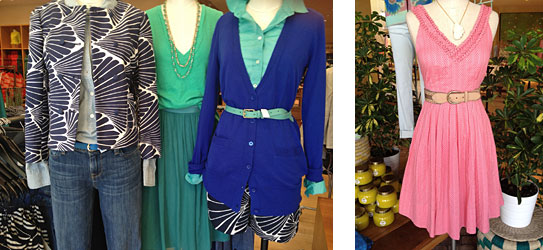 Let the glorious colors that surround you inspire and influence your clothing choices.