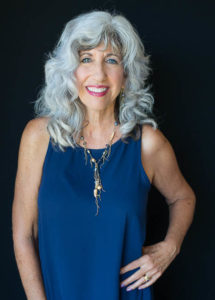 Jennifer Robin is the author of the award-winning book, Growing More Beautiful: An Artful Approach to Personal Style. Her earlier book, Clothe Your Spirit: Dressing for Self Expression, launched her twenty-five-year career as an image consultant, makeup artist, and fashion stylist. She is the owner of Clothe Your Spirit Image Consulting Services and creator of J. Robin Cosmetics, a premium brand of custom make-up. The line includes individually custom blended lipsticks and foundation. These one-of-a-kind alchemical blends capture the spirit of the individual while perfectly enhancing her beauty.
Recognized in her field for her innovative use of color and design, she is also a respected visual artist and exhibiting painter. Jennifer combines her consultant's expertise with her artist's understanding that an authentic inner life is a deep, rich source of beauty. She recently returned from a two-year stay in Hawaii, a journey that led to the inspiration for her next book, Listening to the Mermaids: My Year Under Water.
Jennifer is a featured fashion and beauty writer for Pryme Magazine, an online journal for women in their prime.