Over the duration of my career as an image consultant I've come to appreciate how the motivation to look my best has helped me fully express my spirit. The downside is that I've also felt a lot of pressure to be well dressed. This season feels different. If there is a silver lining to the downturn in the economy, it is my hope that women will feel less pressured to look perfect. I also hope that as women spend less, the fashion industry will do some needed self-correcting and start offering more reasonably priced clothing alternatives.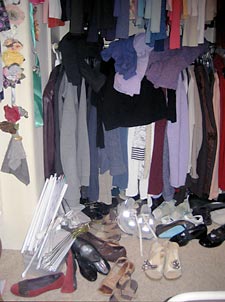 One can only hope. In the meantime, I'm shopping my closet! I've always been an organization fiend where my wardrobe is concerned, but now I am thinking of my clothes and accessories as a resource I want to take advantage of more fully. Why, I can make my collection look like a mini-boutique!
This change in perspective is having some interesting results. Weeding and cleaning feel more like fun than a chore. I've always been able to let go of items I haven't been wearing because I want to see them get into circulation, but here at the Clothe Your Spirit boutique I want only the best. My drawer full of sweaters that I save for painting is taking up valuable real estate and needs to be relocated. I want everything I love to be accessible or on display.
Think about how a boutique is arranged. The cool, new stuff is out in front where you can see it and the sale stuff is in the back. I've reorganized my closet the same way. For example, I have several leather jackets that are still serviceable but that I'm not terribly excited about. I put them away in a separate part of my closet I've designated as "archive." Only my favorites are front and center, organized by color. Another thing boutiques do is rotate their stock. On a blustery day in January those leather jackets topping a turtleneck may look fresh to me and I'll probably be ready to give my current favorites a rest. I've noticed my "archive" section (also arranged by color) already looks more interesting because of its new location.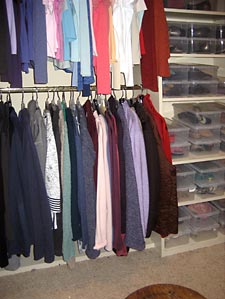 I've come up with some great outfits by combining items I already own in different ways. As someone who typically buys a lot of new clothes, I find this change deeply gratifying. I feel I am part of the cultural shift that is moving toward gain rather than loss.
I know some of you reading this don't have enough to wear, and I recognize that this column is not in synch with your needs at this time. I've seen plenty of wardrobes truly lacking the basics and if that is the case for you, my advice is to get your shopping list together and take advantage of some of the awesome sale prices out there. Or do a combination of shopping your closet and buying a few new treats. Remember, be selective — and have fun!
For more tips on wardrobe organization, check out the Your Closet chapter of Growing More Beautiful and learn about how a collapsible rolling rack can function as a mini second closet.