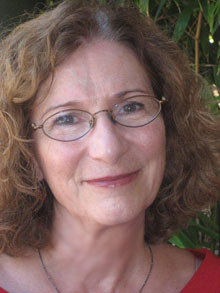 Choosing eye glasses can be intimidating, and for good reason – they take up a lot of real estate on your face. Here is my No Fear Guide to choosing frames that will make you happy.
Don't fear color – Look for a subtle color that picks up nuances of your eyes, lips or hair. If the color flatters your skintone it will work with all your clothes. Mix your best red with your eye color and you have another option. For example, if I mix my teal eye color with ruby red I come up with a purple hue – yum. Soften with a touch of my grey hair color and I'll have a dusty violet tone that isn't too harsh.
Don't fear the frame – Rimless are popular because of the idea that they disappear on the face. They don't, really. For some they are a great choice, but a harmonious frame can make such a pleasing statement that it will be even more flattering.
Don't fear asking your frame for a lift – The shape of the frame needs to balance with your features and give you that all-important lift.
Don't fear being yourself – Think of your spirit and what you want to communicate. When I helped Toni choose her frames I was thinking about what would reflect her playful spirit. What suits you? Whimsy, drama, elegance? Frames can be bold, modern, sleek, delicate, quirky, sporty, sensuous or rich. See my Spirit Term exercise for examples of descriptive adjectives.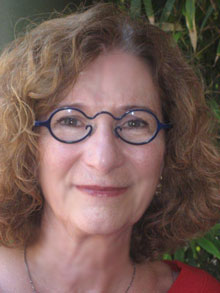 Don't fear trusting your eye – When painting I strive for a "relaxed" composition, meaning there are no jarring or distracting elements. When the frame is right you will feel a quiet little "aah – yes." If you feel anxious butterflies you are stepping too far out of your comfort zone.
Don't fear getting an expert opinion – After Toni realized she was unhappy with the dark frames she selected, she knew she needed help. We were able to choose her new red frames and a super cool pair of prescription sunglasses in under an hour. Like many eyeglass wearers, Toni is unable to see clearly without her glasses. Being able to trust the person helping you is a must! Ask for referrals from people wearing frames you admire. I like Rims and Goggles in Mill Valley, both for the selection and expert advice. Frame specialist Gina Wambua says "Don't fear the price! We have a terrific selection of frame styles in a range of prices."