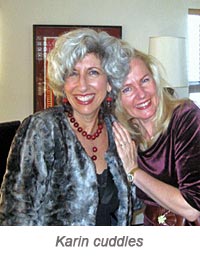 Those little holiday dresses and open-toed high heels make me cold just to look at them. If your festivities include a warm indoor party with valet parking, I get it. For those of us without a chauffeur, we need clothes to keep us dry and warm against the December chill. There is no reason long sleeve dresses, sweaters and skirts with tights and boots can't look festive.
Here are my tips for cozy holiday dressing:
Fake fur is glamorous and snuggly. Notice Karin cuddling up to me? My short fur jacket makes her want to get closer.
Gorgeous color lights up the night – Think lush red, emerald teal and royal purple with accents of shimmery gold and silver. Winter white and the nude "lingerie" hues can be an elegant option, especially if the fabric has a sheen to it. Deep, dark, velvet layered with silk charmeuse or airy chiffon…yum, don't get me started.
Sequins are perfect on knits. Sewn onto a sweater you'll sparkle plenty, and the current trend of sequined anything means you can wear your pretty cardigan well into the New Year.
Scarves are the ultimate chill busting accessory. If your holiday gatherings are more casual, a glittery scarf or one woven with metallic thread adds just the right touch of holiday cheer. I've seen gorgeous embellished ones in all price ranges. Add sparkly earrings and a great lipstick and you are good to go!
If you are truly comfortable, you can be more attentive to those around you, making them feel seen and special. Treating others with kindness gives you a glow that radiates from your inner sparkle.
Enjoy the photos of the Robin family modeling their cold weather finery. Everyone is in fake fur except Lucky. There is no sign of Bathing Suit Jerry because cowboys don't do glitter. And besides, someone had to take the pictures!
Wishing you a warm and cozy holiday!