The Talk Story Bookstore, in Hanapepe, Kauai, is the "Western-Most Bookstore in the United States." When I visited them last month the world of e-books and Kindles seemed very far away. The overflowing shelves had something for everyone; novels for tourists and interesting non-fiction for locals of all ages.
I chatted with owner Cynthia Justice about stocking Growing More Beautiful. She surprised me by saying that she would place it in the Young Adult section. "Most of the mid-life women here are pretty relaxed about their appearance and are comfortable with themselves. Younger women are the ones more interested in fashion tips and make-up techniques."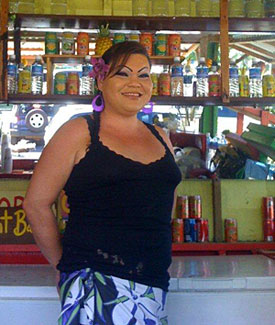 I was also interested to find out that while many women prefer the natural island look, others prefer to wear make-up in a more obvious, almost theatrical way. "Make-up here isn't for subtle enhancement, it's for dress up and drama," said Cynthia. I loved that notion, and started looking around for examples. It wasn't long before I spotted beautiful Blanca working at the fruit stand in Hanalei. She graciously obliged my request for a photograph.
Later, as I admired the image, I thought about how limited we are in our notions of beauty. We're all in lock step with the latest trends and fear how others will judge us if we don't follow along. A listener on one of my radio shows wrote to me, "I loved what you said but I'm not sure I can do it." I think all of us should take a bright red lipstick and write on our mirror "WHO SAYS?" as a reminder to make your own assessment about what is beautiful to YOU.