If a picture is worth a thousand words, then seeing yourself on a big screen HDTV is too much information. Here is my story of what it is like to become a grey-haired botox-free televised beauty expert just shy of my 55th birthday.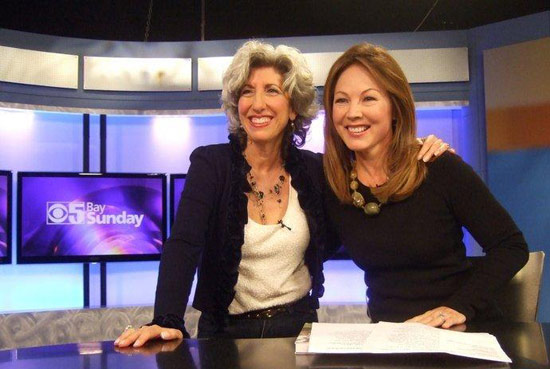 The last time I appeared on TV was to promote my first book Clothe Your Spirit. I was 32 years old and dark hair framed my unlined face. As I was writing Growing More Beautiful I wondered what it would be like to promote a beauty book two decades later. "Showing up" in person and interacting with my readers has been delightful. I'm not oblivious to the signs of aging, but I'm comfortable with who I am and take pleasure in my appearance. I have never pined for the youthful face that appeared on those long ago television shows. When I look back at old photos I can appreciate the evolution that has taken place. As far as fashion is concerned I feel ageless, bold, and full of mischief.
So you can imagine my shock when I watched my first TV appearance in twenty-two years. Did I really look like that? Soon afterward I received a message from my (29 year old) publicist. "You look tired," she said. "Do you think you could get more sleep before the next show? I want you to look really fresh and rested." I had to break it to her that more sleep was not going to help. Blasted by unfriendly light I look like someone we don't see often – a woman in her mid-50's without the benefit of facial intervention. I'm not Oprah or Barbra able to control the camera angles and lighting. Nor do I have a phalanx of makeup artists and stylists designed to present a more radiant me.
In everyday life I use color and make up to create my own version of flattering lighting by wearing shimmery fabrics and artfully applied layers of translucent makeup. These subtle tricks don't work under the bright TV lights so after my first appearance I set about using darker colors to create dimension so I wouldn't look so "tired." I decided to experiment with stronger make-up and bravely put brighter bulbs into my bathroom fixture so I could practice. For my second appearance I looked a little more dramatic but the result was still a shock. Under the magnified lens of HDTV I could see every "flaw" — every wrinkle and bag and wattle and freckle. Dark shadowed slits seemed to have replaced my big blue eyes. Seeing it on a giant screen blew this issue up in my face.
I wish I could tell you that I blithely said "It doesn't matter; it is my message that counts." It is taking me a while to get there and I'm still working on it. My bigger fear is that viewers won't buy it when I tell them it is not only possible, but natural, to grow more beautiful. A few days after the second appearance, my bright bathroom lights still in place, I looked at my face in the mirror, smiled and thought, "This is me, this who I am. Who cares what anyone else thinks?" It was a liberating moment.
I'm curious, too, about the root of these anxious, critical thoughts that have started to dog me. A whisper of unease has curled around me like an unwelcome snake. Up there on the TV monitor I feel like the girl on the playground whose slip is showing. The one the other girls make fun of because she hasn't noticed and when she realizes the snickers are directed at her she fixes the errant lace, but too late. Feeling vulnerable and exposed, I found myself studying the options for facial fillers and more. And then I started to get angry. Why should any of us feel pressured to "fix" ourselves in this way? When did erasing visible signs of maturity become the new "should?"
So now I have an opportunity to see what it takes for me to walk my talk. I'm reminding myself what is true FOR ME:
I like seeing the evidence of a life well lived on a person's face. Like it or not, your neck comes along for the ride.
I'm not willing to chance the health risks inherent in anything you inject into your face, or the even greater risk of surgery, not to mention the cost.
Great clothes and jewelry that makes you look naturally radiant are always a better investment than temporary face smoothing. Skin care and make-up are sensual and don't hurt.
The beauty of creativity, engagement and passion are what truly light you up.
To show up as beautiful, you need to own your choices. I remember being the girl on the playground that was teased about her black, frizzy hair. That girl learned to relish her uniqueness and as she got older and the black hair turned grey she learned to own her choice about not coloring it. It turns out she gets to do that in front of a lot of people.
If a wisp of shame wafts in your direction, always ask yourself "Who says?" Or put down your botox and pick up a paintbrush.
You can watch my recent TV appearances and see for yourself. So you don't think I'm being hysterical over nothing, keep in mind that a small YouTube version on your computer screen looks very different from the full size HDTV version. And I'm confident enough to know I do a fine job of communicating my message. I've also included a short little movie Jerry shot of me on his iphone. Out in the late afternoon sunshine I look natural and happy. That's the image of myself I'm holding onto.