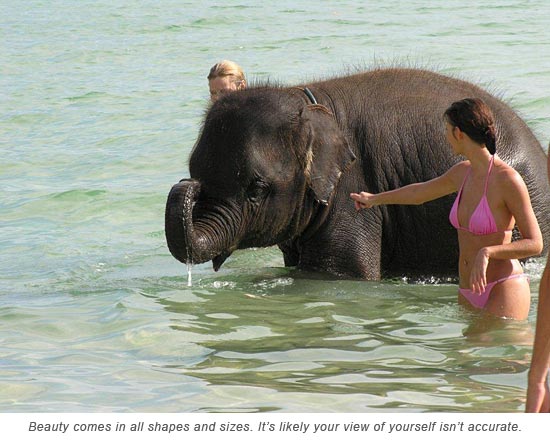 I've had a lot of shopping challenges this season. Last week I found a hugely pregnant bride the perfect outfit to wear to her "resort casual" wedding next month. Just before meeting with the soon-to-be mama, I helped the proud owner of two beautiful "G" bra cup breasts find a bathing suit. She had not had any luck with catalogs and was horrified by the idea of facing the fitting room alone.
Both of these Rubenesque beauties have been my clients for a long time. Given the challenges, both expressed reservations about our chances for success and admitted they were not looking forward to their appointment as much as usual. Knowing the limited options available to meet their needs I admit I was a little worried too.
We started with what is always the First Step to Shopping Success: Show Up.
As far as available swimsuits for the well endowed, we soon discovered that Macy's does not carry tops to fit anyone larger than a DD. After a few depressing attempts at squeezing into unflattering options, we decided to move on to Nordstrom. I suggested that if we were unsuccessful there we should take my IPAD to Starbucks and look at some online catalog options together.
At Nordstrom we were directed to a line of swimwear that would work for a full bust. These architectural masterpieces did not have much hanger appeal. But we were game.
We moved on to Step Two: Give it a try.
Everyone hates trying on bathing suits. But if you have someone to help hang up the rejects, to groan with you over the dowdy ill fitting disasters, to laugh at the absurdly skimpy ones, and to encourage you to keep trying, the experience isn't so bad. If you trust that person, you will believe him or her when they tell you that you look fantastic, and that, YES, you rock that bikini and in this case horizontal stripes are truly flattering and spunky.
Finally, the important Third Step to Shopping Success: Listen to the advice of a person you trust.
Three adorable suits later, we reflected that while things didn't look too promising at first we were so glad we persevered. We enjoyed our coffee without the need of the internet, free to strategize about cover-ups.
The same three alchemical steps worked for my luscious bride. I've been on the lookout for her dress since she first told me she was pregnant. I don't know where celebrities find the magnificent outfits they wear to the Oscars or the Royal Wedding, but it certainly isn't in any of the local maternity shops. If you need jeans or cropped pants with room for a big belly there is plenty to choose from, but if you want something special the pickings are "slim" indeed. The bride told me she too had been out shopping and ended up in tears each time.
I wanted to shield her from further disappointment so my inclination was to scour every bridal and maternity store in the greater Bay Area in advance. "No," said the bride, "just meet me at Macy's maternity department at noon."
Back to Step One: Show up. So we did.
I gathered up all the dresses in her size and color range and carried them into the fitting room.
Step Two: Give them a try. So she did.
One of the dresses that caught my eye was one the bride had already rejected on a previous solo excursion. It was long and white, a casual cotton sundress with a beachy resort feeling. "It's so comfortable" she sighed, "and I can wear ballet flats." I scurried through the store and easily found a selection of wraps and shrugs for her to choose from. A gorgeous necklace added sparkle and her bouquet will be the finishing touch. And there is no question that she will be glowing!
She told me she was so glad she followed Step Three and listened to the advice of a person she trusted.
Throughout my career I've seen that when you follow the steps of showing up, being open minded about giving it a try, and having someone with you that gives great advice, you will succeed in finding what you are looking for. Sometimes the person I trust is my husband Jerry, my fashionista friend Jane, or my shopping consultant at Macy's, Lea Perez. It was Jerry that told me to try on the top I'll be wearing for my next TV appearance, and he stopped me when I asked to try it on in a bigger size. "Nope," he said. "It's the right size, trust me." So I did.
Shopping can be difficult and frustrating. You only have to look around you to see how many women have given up, escaping into a wardrobe of bland neutrality, dressed in garments that do nothing for them. Yes, times are hard and clothing budgets limited for most. But beyond financial issues, it also takes believing you are worthy of help and support. To know that whatever your challenge your needs are not too difficult or immense for you to find success. A little trust, a little permission and you'll be strolling down the aisle or beachfront in all your glory.
Photo: Jerie Jerne