I'm frequently asked for my expert opinion on all kinds of fashion trends. The writer is always on a deadline and my response is needed immediately. This week a national magazine asked me about leaf shaped jewelry! Sometimes the entire piece is used; sometimes just a line or two is quoted. I thought you might enjoy reading a few of my responses to reporter queries.
The St. Paul Pioneer Press Asked : Are Full, Harem Pants Back In Style?
When it comes to fashion, the pendulum always swings from one extreme to the next before occasionally landing in the middle! This summer, trend spotters in Europe noticed the popularity of wide legged, full harem style pants popularized by MC Hammer. With pants and jeans reaching the ultimate in cigarette skinny there is nowhere for pants to go except wider! It is a relief to get out of skin tight denim for a change and into something more flowing and relaxed. Here is your chance to experiment with a different shape that is oriented to showing off the waist and upper body.
The runways show this wide fluid pant with a structured jacket and caged sandals, but women everywhere have already adapted this look to everyday by pairing them with a simple T-shirt or tank and flat sandals for warm weather comfort. The overall feeling of these pants fits with the solid trends of tribal and global looks, especially when they are in a colorful print fabric. In a neutral shade paired with other neutrals they follow the trend toward structural and even sculptured shapes. As this trend continues into fall we will see the silhouette in flowing gabardine and heavy silk, worn with a fitted jacket and booties. Expect a jumpsuit version too.
As with all trends, for the average woman that isn't 6′ tall or stick thin, this style needs some adapting. Look for a modified version that flatters your figure. If you are fuller on the bottom, watch out for excess fabric that adds too much bulk. A slim fitting, structured top will help voluptuous women from looking big all over, or try belting a loose fitting top to rein in the fullness. If you like this look but can't make it work for you, give the wide legged trousers or jeans in more classic shapes a try. Longer, fuller skirts are also making a comeback, offering the same ease and comfort.
The Chicago Tribune asked: Are Pantyhose Making a Comeback?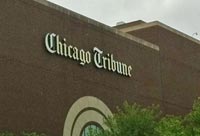 When my recent blog mentioned the possibility of pantyhose making a comeback, women commented with a resounding "No thanks!" Many of us remember when pantyhose were mandatory, especially in the workplace, and no one wants to go back to the days of discomfort and dealing with embarrassing runs that always happened at the most inopportune moment. For the most part, wearing sheer pantyhose has been replaced with tights, opaque and patterned hose, and leggings. But pantyhose has always been around and is appropriate for certain occasions. Not only does it look more polished, it is more comfortable with closed shoes and heels.
For a formal occasions covering the leg with sheer hosiery is elegant and appropriate, especially weddings, funerals and certain social events. I also think it is a good idea for job interviews if you are wearing a suit. Any time you ask yourself "Would hosiery look appropriate?" the answer is usually yes. Some women feel more comfortable and confident with the smoothing benefits of wearing pantyhose, both for the uneven pigmentation on the leg and the "control top" benefits. This group has never abandoned this wardrobe staple no matter what the trend.
There is no doubt that Duchess Kate style is going to have an influence. I'm hoping she is going to bring back modern "day dresses," and if that happens it is possible that pantyhose will make a comeback as well. I think we will have a better idea next spring. As we go into fall/winter, opaques will still rule. My hunch is that for most fashion savvy women, even if they dapple in classic sheers they will still want unique, playful hosiery. It is too much fun to add a personalized touch with interesting details like pattern, seaming or embellishments like crystals. And most women are too independent minded to ever return to the discomfort of hosiery in hot, steamy weather. There is a segment of the population that has never worn pantyhose, and if they follow "Kate Style" they may give it a try. There is also the influence of Christina Hendricks and "Mad Men" 60s style. It will be interesting to see if that happens! Who knows, if the 70s trend continues maybe we'll see the return of L'Eggs pantyhose in the suntan shade. But I hope not.
The classic go-to brand that has been selling for years is DKNY Nudes sheer to waist. There are several "tones" to choose from. I have not seen the selection of nude pantyhose in department stores expand beyond the basics. Wolford is the high end brand, and their Naked brand is beautiful too, but if I was going to invest in their fine line I would rather get something interesting. Good deals abound: Once you know your style and color you can find a better price on-line or during the department store sales.
I think the bottom line will always be comfort. Some women find that pantyhose help them feel pulled together and polished, and the support of the hosiery feels good, especially if the weather is cool. No one should feel frumpy or "out of it" if that is their choice. I always thought short skirts, high heels and bare legs looked a little silly in the middle of winter, but that was a "look" and some ladies wore it well. Trends influence, but an individual's preference always defines personal style. Fashion is fun, and if "Royal Style" becomes a trend and takes hold we can experiment with pantyhose in a playful way. I don't think anyone needs to fear it as the next mandate.
Here is the link to the article in the St. Paul Pioneer. You can read the Chicago Tribune article here.