On Saturday I had a mad shopping spree at the Forever 21 in Waikiki. This enormous store is the size of multiple football fields, a warren of rooms with no logical order. If you do manage to find something you like and want to try it in another size, there is little chance of finding it again.
The store has an inviting street display, and when I lived nearby I would wander in with the crush of tourists and just as quickly wander out again. One wander I discovered their men's departments and later brought in Jerry to great shopping success. I was surprised and delighted with what we found, but Jerry has always been a cool character. Plus menswear has some semblance of standardized sizing.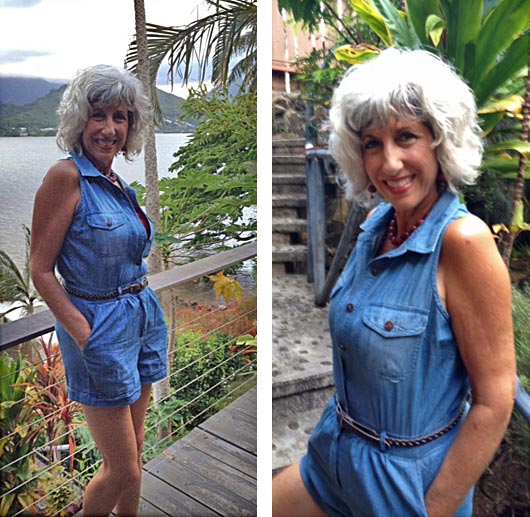 When my sister-in-law Karin came to visit in February we tried again and quickly decided the clothes were not for us with the exception of the cami bras. At $5.00 apiece we could have one in every color! I dared to try on some cute, cheap bathing suits and quickly discovered what a bad idea that was. I took my bumps and sags and moved on to greener pastures, specifically to the Victoria Secret down the street. FYI, their bikinis may look like dental floss but are actually highly structured and a friend to midlife women everywhere!
Fast forward to June. With summer and my birthday approaching, I wanted some new clothes. The thing is, living in Hawaii I don't need much, and I already have my entire California summer wardrobe with me. But this is irrelevant as I am still me and crave new clothes.
So I decided to try again. The loud, thumping music was intense and I missed having a girlfriend or even a helpful sales person. I persevered and ended up with a nice collection of summer tops and a cute denim dress and romper, pictured here. I knew to stay away from their shorts (really short!) and, well, most of what was in the store. I know what I wear here and what works on my body. Some things were atrocious but surprisingly many were cute. I had to be sure I loved what I purchased because all sales are final – no catch and release!
So now I have found shopping success at both Forever 21 and Costco. I wasn't even a Costco member in California. However, I have always been on the lookout for reasonable prices, at times frequenting H&M, Zara, consignment stores, and almost always buying on sale. Still, I stand by what I say in Growing More Beautiful: it is not cost-effective to buy random pieces that don't lead to a functional wardrobe. For further guidance on coming to terms with the time vs. cost equation of shopping, revisit the chapter "Affording What You Love."
My life has changed a lot – and yours will too. Past buying patterns may no longer suit your situation. You can be creative and innovative, move your ego out of the way, and try something new.
Here are some tips for shopping the super discounters:
If you can't tolerate loud, aggressive music, stay home.
You will probably need to size up at H&M, Zara, and Forever 21. And up. Who cares? But their XL is about a size 12, so if you are larger don't torture yourself.
At Costco size down. Their clothes run large. Sizing depends on the area you live in. At Walmart size up in juniors, down in misses. Both of these discount superstores have great deals on name brand workout wear.
What do you need and what are you looking for? Will cheap thrills spice up your existing basics, as in my case? Or does your wardrobe lack foundation pieces such as decent pants or sweaters? The next time the shopping bug bites I'll head to J Crew or Macy's for skirts and shorts that fit well in the waist. Without a flattering fit, it's back to MAD and BFD (see previous blog!).
Are any current style trends or colors working in your favor? If so, you will have more success. The retro trend has brought back fitted waist treatments and princess seaming, all of which fit my body much better than a high or dropped waist. I feel like a pinup girl in my little romper!
I surveyed a few of my friends, family and clients that I know love to shop for bargains, and asked them for their thumbs up and down. The responses are great, read on. You will be inspired to shop no matter what your budget.
From Julie, 70s, loves bright colors, and comfortable hip looks:
I really scored at Goodwill last week – for $3.50 I found a brand new men's shirt, white with big, bold black and grey checks – it's perfect with a lime green or lemon yellow tank and black jeans. Target is great for lots of things, but I especially like their socks, in vivid colors, and their cheap, plastic teenagery watches – for $15 you can have a lot of fun on your arm. Waste of time? Trawling through Kohl's messy stores, finding too many badly cut clothes made with cheap fabrics, at obnoxiously high prices. Marshall's and T.J. Maxx work for me, and Ross is usually worth the trolling – I've found a lot of Ed Hardy laceless canvas tennis shoes there in surprising color combos and patterns.
From Joan, 60s, outdoor adventurer and landscape painter. She is 6′ tall and wears a size 16 and outlet malls offer her the best size selection.
I like to shop in outlet stores because I like common cotton, techie fabrics for hiking, skiing, yoga, swim and shoes for sturdy wear. I shop in the "off" season but really it is just the right timing. I sneak peeks into the designer stores and find my dinner blouses, sweaters and skirts without any extra miles traveled to a new location in my car! I target my shopping, do it when it feels fun and do not buy what I don't need. The best feeling is when I go birding or swimming I feel well dressed. I recycle my old clothes into my oil painting clothes sooner – they are stylish and ready to be splattered with paint!
From Lucia Antonelli, fashionista and jewelry designer extraordinaire:
I'm a big fan of H&M, especially for leggings and skinny jeans on the cheap! Target is good for T shirts … I love Zoe in Petaluma for hip consignment clothing with a Bohemian flair … some designer stuff there too! And of course, Anthropology for their sale room!!! Very cool stuff that won't break the bank! I tire of my clothing easily, so I'm for clearance items from a good store.
Julie, mom of three youngsters, 30s:
Outlet mall all the way for me and the kids. I especially like Old Navy. I can't deal with the big department stores. My husband buys online at bombfell.com.
My Mom, Lois, a veteran discount shopper, adds:
It turns out my daughter was right. When the clothes go on sale, Macy's is as cheap as anywhere. And shopping there is much more pleasurable because the fabrics and colors are much more appealing. I actually enjoy wearing my finds because they fit better.
The best discount shopping in the history of the world was when I held a moving sale last fall and sold off many of my clothes. It was amusing to go to a party the next night and see many women wearing former duds.
Now making appointments for fall wardrobe consulting and shopping in California, September 25-October 5.