What do these first five photos have in common?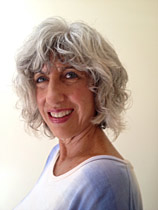 I took them all myself.
When I was getting ready to publish Growing More Beautiful, I needed a model and it turned out I was the only one handy and affordable. I never envisioned plastering photos of myself all over my book and ultimately my websites, blog, and Facebook. Now I think using myself as an example is cool, even if I have to take the photos myself.
You can feel it: a "cute" moment. Your hair looks good, you love your outfit or your lipstick. Grab your camera. There are many benefits to photographic self-portraiture, including:
You can practice when no one is looking or judging. It is a great opportunity to experiment with expressions and angles.
You can learn to recognize flattering lighting through trial and error, and when someone else is taking a photo you can steer them toward a good setting.
You can capture a relaxed, "feel good" moment to lift your spirits later.
You are in control of the delete button.
Positive results build confidence. When you take a few good ones of yourself you will feel more confident when someone else takes your picture. Your smile will be more relaxed, and your eyes will mirror your inner warmth.
Most importantly, it is another way to learn to love yourself. If iPhones were around when Marilyn was alive I bet she would have been constantly taking photos of herself – and loving the process. This cycle of creating and appreciating flattering photographs helps you reflect positively on your beauty and gives you an outward dazzle.
Here are some tips for when, where and how:
Head somewhere with even lighting. Your garden or any handy shade that isn't too dark will work. If you can find a pretty setting, so much the better. If it is a cloudy or hazy day and you end up looking grey and washed out, quit and try again another time.
Try taking photos in your car. Hardly atmospheric, but often the lighting is flattering. You can also use your side mirrors to position the camera screen.
The iPhone is a great tool. It allows you to reverse the image so you can see exactly what you are taking. But after you locate yourself and compose the scene, turn the camera back around to normal photo mode. The reverse image is essentially a video camera and the results will be grainy. With a little practice you can learn just where to point and shoot.
Enlist a friend or partner to help you practice and grow your confidence. Don't just mark an occasion or document an event, play at being a model. Hand your partner the camera and pose either naturally or dramatically. Ask him or her to take a lot of snaps, at least 10 at a time from varying distances while you move around and change expressions and the angles of your head and body. When you look at the images you might be disappointed, especially if you felt great in the moment. We are always fatter or older or more scraggly or shiny or wrinkled or dorky than we want to be. Don't start madly deleting unless your eyes are closed or you look truly awful. Come back to them later and you might be surprised that they are better than your first (critical) impression.
Don't wait for a vacation or Christmas card photo to take a bunch of pictures. Your willing photographer needs practice too, and can learn from your positive feedback. They will appreciate the homework you have done on your own too. Jerry is wonderfully patient but if I want something specific and need his help I try to check out the setting in advance with my trusty iPhone. Most of the time our sessions are spontaneous though, and are a playful way for us to spend time together. Below is an illustration of a quick series of images.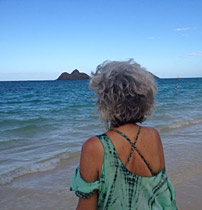 In a future blogs I want to explore the art of striking a pose, how to look great in group shots, color and make-up that stands up to flash photography, and the benefits of working with a professional photographer. Stay tuned!
APPOINTMENTS AVAILABLE IN NORTHERN CALIFORNIA OCTOBER 7-10.