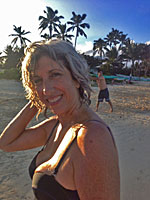 Before we moved to Hawaii I rarely wore a swimsuit, occasionally strolling a tropical shoreline on a brief, blissful week long vacation. Now I sit around a beach in a suit eating and drinking and photographs are likely to be taken. Thanks to Bathing Suit Jerry's influence I wear whatever is the sexiest and most fun, firmly believing that confidence is what shows. Despite my bravura about ditching the one piece, I can feel self conscious and critical of my belly fat as it rolls over the top of my bikini bottom when I am sitting.
What is it about belly fat anyway? I know everyone has it. I realize it is supposed to be there. So why does its innocent presence bring up comparisons to laziness and sloth? And how do I sit comfortably on the beach with my little rolls and not buy into that?
Girls and women on the beach here come in all shapes and sizes, most wearing bikinis. The first thing I noticed when I arrived was how bottoms showcasing round buns ruled supreme over the previous focus on big breasts. The perfect, small bikini showing maximum amount of cheek was now an art form. When did this happen?
At first I ignored this trend, confident that my pancake flat bum would best be suited covered up. I've often made humorous but disparaging remarks about my butt and it's little wrinkles and sags, comparing it to the father I inherited it from. But I am a sucker for style and experimented with a bikini bottom from Victoria's Secret that modestly added a hint of curve, meanwhile selecting a top that pushed up my lush bosom.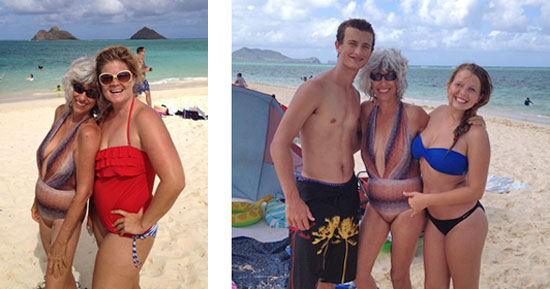 Fast forward a year. During that time I became good friends with someone more than 20 years my junior, and picnic from time to time with her and her friends at the beach. Although they are all a lovely array of normal sized bodies, I am by far the oldest. My self consciousness around them came as a bit of a surprise. No matter how "evolved" you are about accepting your appearance, a bathing suit is a really small amount of material and you feel naked. I decided to get myself a tankini or maillot for picnics, but when I went in search of one they were all matronly and depressing, so I indulged in a string bikini with tassels that even if it didn't provide more coverage at least made me feel more cheerful.
Recently Leslie, my closest friend since our teens, came to visit and bathing suit shopping was part of the plan. This auspicious occasion was also a celebration of her recent successful breast reconstruction and was much anticipated by both of us. Leslie owns a successful Pilates studio and has a wonderfully sculpted physique. I started to feel self conscious before she even arrived but that quickly faded.
We had a blast, taking photos in the store of our shopping experiences, shocking the young salesgirls and later our friends on Facebook by posting them. Now that I own more bathing suits than there are days in the week I had no intention of buying another one. But not surprisingly, a suit showed up that I liked so I bought it. The thing about this cut-out tank is that I really, really feel comfortable in it. It is grown up, stylish in sort of a retro Norma Kamali way, but not at all matronly. My breasts look risqué and great. The middle has some coverage and is great for sitting in. The biggest surprise is the bottom is cut high in the back, showing off quite a bit of curvy cheek that isn't saggy or unpleasant, but sexy. Turns out the right cut makes all the difference.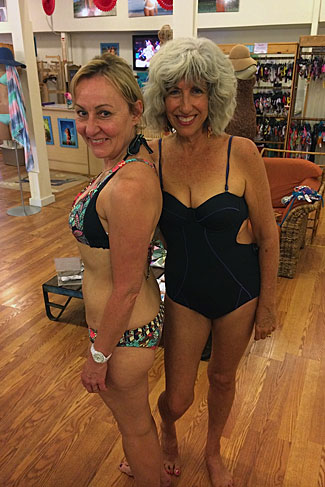 So what conclusion can be drawn here? We all feel insecure but it is good to be daring and move forward? A more flattering suit may be just around the corner, so don't give up? Our sense of ourselves and kindness concerning our flaws can be always be improved or enhanced? Maybe all of the above. My friend Pamela tells me I am brave but once you start on the path to loving and accepting your uniqueness there is no turning back.
Meanwhile, I'm headed to the beach for a swim and am happy to have lots of colorful choices. Should it be my string bikini or my push-up? My JLo barely-there draped one piece or my favorite cheeky model? Intimidated by aging? Me? Not yet!
Looking forward to refreshing your wardrobe this spring? I'll be in Northern California the last week in March, contact me if you are interested in an appointment.