I'm always a bit embarrassed to reveal how much I love lipstick. Not that my obsession is a big secret, and now that I am launching my own custom created line the gig is truly up!
My love affair with lipstick began in my twenties when I was beginning to love my own curvaceous mouth. I was discovering my passion for everything related to personal coloring and style, and I noticed that even with my dark hair I didn't like lip color that was too strong or bright. I saw that the perfect shade made your features harmonize in a way that reflected your essence. I was hooked.
In the early days of my new image consulting business I took clients to department store makeup counters in search of the ideal cosmetics, but within a year I was putting together my own line. There seemed to be no point in spending several hours doing a color palette if I couldn't find the coordinating shades of makeup. The range of reds in a palette is the most important element, so it follows that the blush and lipstick color must be spot on.
In my thirties I embarked on my passion for painting. I mixed water color and acrylic by the hour, fascinated how a drop of red enriched green. I reveled in the uninhibited use of pigment, of not concerning myself with human color harmony and the small canvases that faces provided for eye shadow and blush. I loved putting colors together that clashed, acid green and marigold and magenta. Ultimately I moved toward the more subtle effects of layered pastels and focused on the color harmonies that best represented the beauty of nature.
Fast forward twenty years. My makeup line now boasts a carefully curated selection of fully pigmented lipsticks and pencils in various creamy textures and glosses that range from sheer to punchy. Yet even with all these choices I feel limited. The spark of the idea that I would one day create my own lipstick line began for me when lipstick 170 was discontinued from my supplier. This beautiful frosted shade aptly called Gilded Mauve was beloved by many of my clients. With the ideal combination of intensity and softness, cool but not bluish, it was the perfect color if you wanted depth without brightness. Vanishing into thin air, my top seller was never to be seen again. How could this be?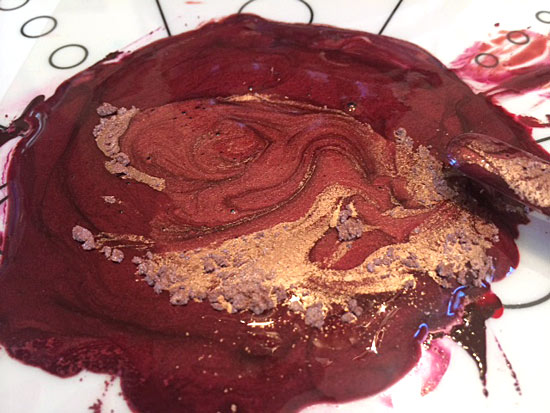 When I saw an opportunity to custom create my own lipstick colors I knew it was for me. No longer needing to find the best of what other manufactures had to offer I could fulfill my lipstick destiny and use my color expertise to come up with my own selection of colors, and vary those colors in minute ways to achieve total satisfaction. Now I have come full circle, needing to carefully blend tiny amounts of pigment in a ratio to the lipstick base. Once again I am lost in color mixing, adding tinted frosts to create subtle variations.
Lipstick is the TA DA! The final flourish! You've done your foundation to smooth and conceal, blush to create glow, accentuated your eyes by giving attention to your brows, lining and shadowing your eyes, lavishing on mascara. The touch of warm color to this tiny bit of real estate brings your features into focus. The finishing touch to the lips makes all the other beauty efforts on behalf of my clients come together.
Even with all the practical reasons for its importance, my passion for lipstick defies logic. It seems I was born this way. The chance to create my own version of personal perfection leaves me breathless. If you can stand this much excitement, come and see me for a creation all your own.
J Robin Cosmetics Launch Party
November 1, 1-4 PM
Get your glow on with esthetician Pamela Joyce and jewelry designer Lucia Antonelli
Free samples and chocolate!
# 6 Scenic Way, Petaluma
RSVP 707-479-4027