On the first warm day of this brilliant, technicolor spring, I reached into my closet for one of my lightweight favorites, a delicately striped pink and white linen t-shirt. Off we went to Sonoma to enjoy the day. While walking around the square I paused to admire a blouse in the window of one of the stores.
I didn't go in to try it because I'm pretty disciplined in my approach to buying new clothes. I have rules. Procedures. Especially at the beginning of the season when I haven't had a chance to even evaluate what I own. Nonetheless, after lunch I couldn't resist going back to look at it. The saleswoman took it out of the window, and as soon as I slipped it on I headed to the register and had her cut the tag off. My pretty t-shirt went into the bag.
Looking like a cross between a lace tablecloth and a Christmas angel ornament, the blouse was an unusual choice. Both the body and sleeves are bell shaped and the low gathered neck is destined to slip off my shoulder. Yet when I admired it with my light hair, I felt transformed. As the saleswoman was ringing it up I ventured that I felt angelic. Clearly that was plain to see, right?
"Do you feel like an angel?" she queried skeptically. "Well.." I hesitated. I thought of the mermaids, of the lightness of being of all my imagined creatures. "Maybe," I said hesitantly, embarrassed.
A year ago I wouldn't have been attracted to this top, dismissing it as too "costume-like." But last spring was a long time ago. California was still in the midst of an epic drought. The possibility of a Trump presidency was unimaginable. So many people I know have had a year of big upheavals in their lives. Two of my friends were diagnosed with cancer – one survived and one did not.
We live in a changed world. Think back to what you were doing this time last year. What's changed for you personally? Everything that happens impacts the way you view your appearance and influences how you want to express yourself. In the last six months I've spent time writing my mermaid book, letting my hair get longer and looser, watching the light fade and slowly return, the hills turn green and the trees begin to bud and bloom.
Today a new client who has always struggled to find a foundation color that would work for her unusual skin tone came to see me for a custom blend. She was thrilled with the result and when she hugged me goodbye she said, "Your an angel."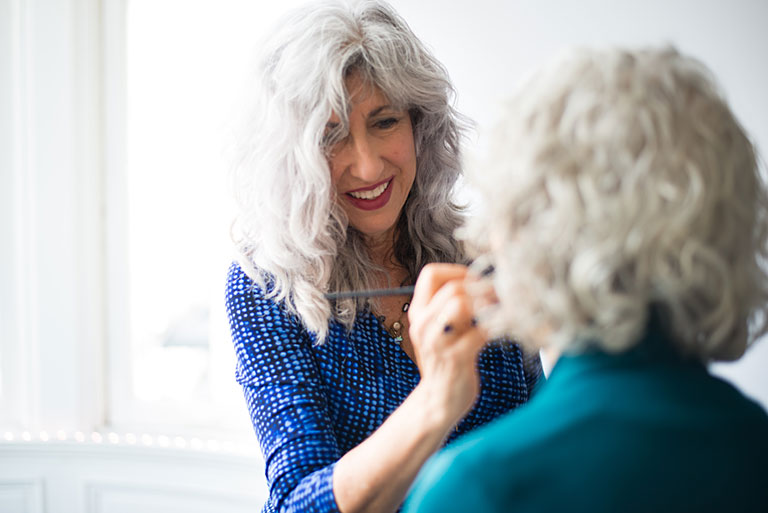 Apparently I have a new job description: Angelic beauty alchemist that writes about mermaids. I like finding out what such a person would wear. Let's continue to push against the cultural expectations of what it means to be beautiful and expressive as we age. I'm looking forward to discovering what that looks like for me, and for many of you, in the light-filled months ahead.
Photo credits: Deborah Parrish
Blossom Confetti
Original painting: 10×12
Gallery: California Spring