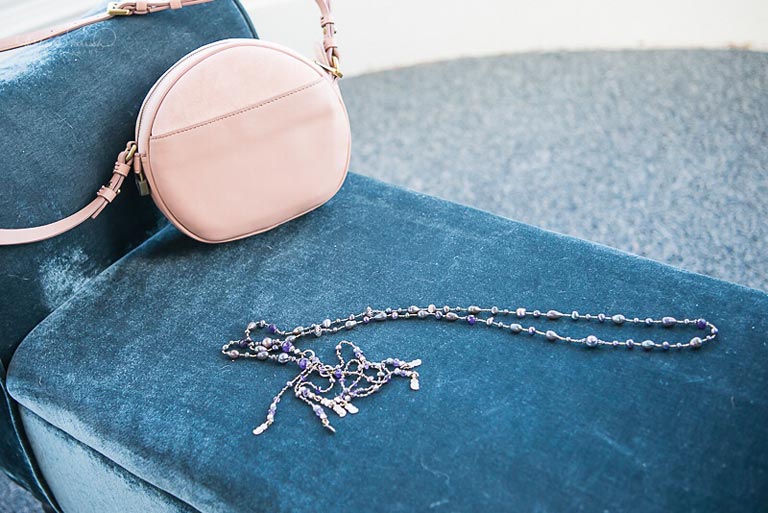 Most of us have a pretty good idea of what we like and what looks good on us, but "personal style" is fluid. Love them or hate them, fashion trends keep us moving forward, giving us opportunities to discover new aspects of ourselves.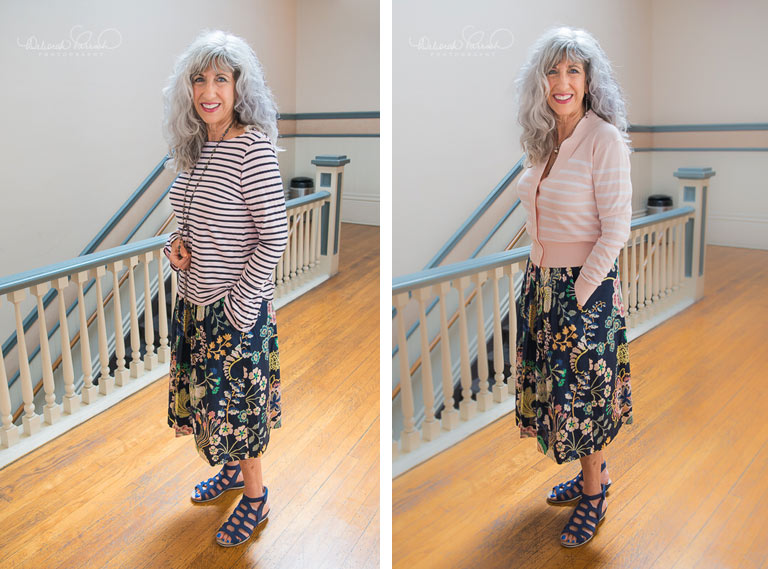 While inspiration is available online and in style magazines, how a trend looks on a real person is not always the same. The best (and only) way to learn about what unfamiliar styles and silhouettes might work for you is to try things on. I thought this striped t-shirt would look great with the colors in the flowered skirt, but when I put them together it wasn't flattering and here's why:
Skirt and top are both loose so there's no body definition
The top is too long, dividing the outfit in half
The mix of stripes and pattern is too much contrast for my medium stature and overall visual design.
The combination looked great on the hanger, and it might flatter someone taller with broader shoulders. Or perhaps a playful spirit that wants to create a sporty look with cute tennis shoes?
So I tried again, this time with a shorter sweater. It works better because:
Fitted waist gives figure definition
More flattering proportion, the ideal 1/3 to 2/3 ratio
The white stripes are more subtle and less distracting.
My seasonal color palette describes me as a "winter" so I am typically drawn to intense solid color or shimmery neutrals. This patterned skirt and top from J. Crew is a departure for me, but why buy another pair of black linen cropped pants? I love this quote, especially when applied to color and fashion:
"Hardening of the categories creates arts disease"
The only rule you need to know is: if it works, it works, and if it doesn't you get to decide if you want to to do it anyway. That's my definition of "style." Learn, notice, pay attention and then follow your heart.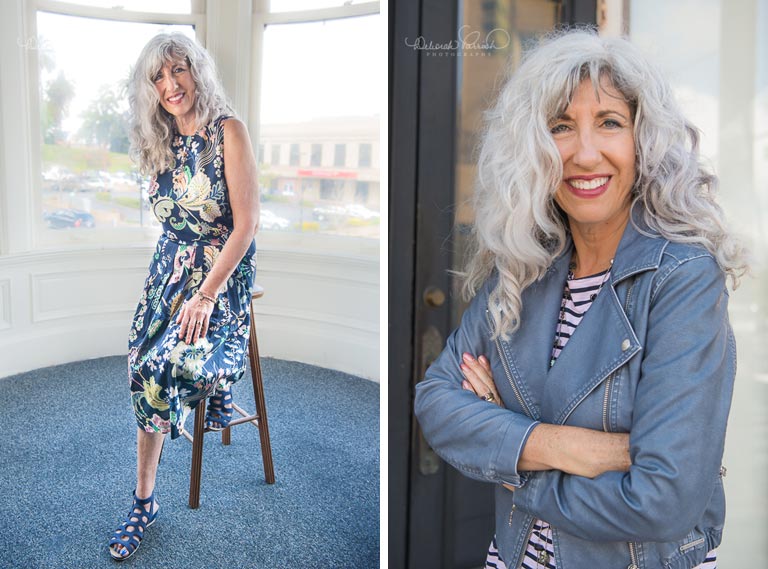 It makes me happy to think about wearing this outfit, not only the pretty print but the comfort of the elastic waist, soft washable cotton, easy length and big pockets. I also own cardigans and denim jackets that will work for spring/summer layering.
If something catches your eye, don't tell yourself "no." Get excited. Try it. Maybe it won't be wonderful but hopefully you'll be inspired to try something else that will be. The pink and navy striped t-shirt that didn't work with the skirt can be mixed with dark or white denim and looks great combined with this soft blue jacket.
Thanks Deborah Parrish Photography for photographing these examples so I could share them with you.
Happy experimenting!
Jennifer Robin
Clothe Your Spirit Image Services
Author, Growing More Beautiful: An Artful Approach to Personal Style
Growingmorebeautiful.com
707-479-4027