I recently traveled to Hawaii but my inner beauty critic wasn't allowed to board my flight. Stuck on the mainland, I left her languishing somewhere under unflattering lighting clutching her magnifying mirror.
What is it about the tropics that makes one feel so attractive that you can toss aside your concealer? Is it the humidity plumping your skin and filling out your hair? Perhaps the sensuous tropical fabric curving gently against your skin? Or the laid back, no worries vibe?
I think it's the light.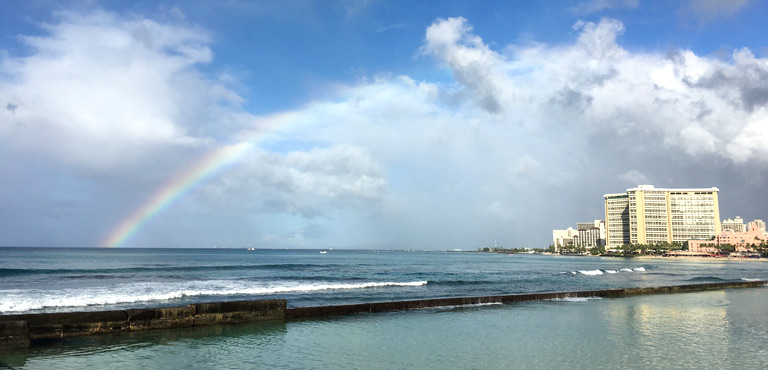 We forget how harsh the lighting is in our northern environments: bright overheads, sickly fluorescents, nasty lights on our bathroom vanities. The magnifying mirrors we use to get our eyeliner on straight doesn't enhance our beauty when it heightens our sense of being flawed.
In the homes where I lived in Hawaii, the bathrooms all had natural light coming in through a window or skylight. A bit of blush, lipstick and sparkly eyeshadow were all I ever used, and I felt better about myself letting go of the need to conceal and correct.
Where are these bitter, powerful voices coming from? What arbitrary standards are we measuring ourselves against? Before my trip I was struggling with applying concealer smoothly and doing daily battle with either my hair, my feet, or my waistline.
What is up with that?
I purchased a new pair of eye glasses just before I went on vacation and I was uneasy about my selection because my last pair had been a mistake. In this kinder environment I didn't second guess myself and was free to love how my quirky new glasses complimented my natural boho look and to savor the translucent sea glass texture of the frame so in harmony with my surroundings.
The natural island environment drowns out the power of the critic, vanquishing her ammunition to influence and control. Looking at the water is transformative when I allow all that luminous blue to fill my senses. I feel the boundary of my skin become permeable, as if the color could flow inside and through me. Swimming also washes away all thought, especially silly ones about crows feet and age spots.
I hoped to hear from the mermaids, and indeed they welcomed me back. I asked them about beauty and they told me to think of myself, with my white-bright hair and silvery patina of age, as a "moon glow" mermaid. I'm looking forward to explore that lovely imagery further in a self-portrait.
I filled my bags for the return flight with luminous color resonance to carry me through the remaining dark, rain drenched February days. Thankfully March has arrived with the promise of blossoming trees and mustard fields glowing against a blue sky.
Looking at the beauty in nature, saturating my senses with color, is where I find peace and an escape from judgement. Turning off the critical voice is how I continue to find pleasure in caring for my appearance.
Happy early Spring! I hope to see you at one of my Santa Rosa Junior College courses celebrating an Artful Approach to Personal Style. Classes will also be offered during the summer semester, July dates TBA.
Eye glasses from Phoenix Optical.