Rushing rivers and clean closets have more in common than you might think. Swimming in the deep waters of creativity provides necessary perspective and refreshes your spirit for what lies ahead.
Last month I delighted in my annual Sierra painting trip. With no cell service I was able to unplug from all the bad news as well as my need to check email and social media. In ten days I read four books and worked on twelve paintings.
Even before I jumped into the alpine lake I was navigating the river of my creative work.Summer began with teaching at Santa Rosa Junior College, sharing with my students an understanding of their personal color harmony. July was an alchemical experience of assisting multiple clients spin gold from the clutter in their closet. There seemed to be an unusual amount of energy for hot mid-summer devoted to cleaning, clearing, and combining what remained. All of these women were choosing to support themselves by creating order and and ease so they can move on to what matters most.
Upcoming Fall Classes:
Sept. 28:  Wardrobe Planning
Oct. 19: Personal Color Harmony
Shopping magic was abundant too. On my mom's 89th birthday we were idly browsing in a clothing store when her dear friend happened by, clearly distraught over some bad news. "Let's shop," I said, hoping to lift her spirits. Combining perfect color, texture and fit in this Johnny Was top all worked their healing powers. That afternoon was unseasonably hot for coastal Santa Cruz, and my mom said she hoped I'd brought one of my festive frocks to wear to her Chinese restaurant birthday dinner. Alas, expecting fog, all I had was long pants and a sweater. A quick stop at the local Target produced a item of the top of my wishlist: a lightweight, floral jumpsuit, perfect size and color. Thank you, goddess of shopping.
This magical carpet ride continued with my longtime client Julie. After a successful late afternoon excursion for special event attire we were relaxing over a beer when her boyfriend Rob showed up. He admitted he had nothing to wear to their upcoming events, so with twenty minutes before the stores closed I whisked him into Banana Republic and outfitted him in trousers with coordinating shirts, sweaters and a blazer. It was done. That fast. Thank you, once again.
Could painting lakes, cleaning closets and going shopping make a difference in the bigger picture? All I know is I am ready: for fall and all that lies ahead. I feel less like hiding and more like acting. People confuse creativity with talent. The ability to create already exists within you, and you can step into the flow of it at any time.
I'll end by sharing a few of the paintings I worked on during my weeks in the Sierras. No matter where I go, from tropical island to towering mountains, I'm fascinated by the color and shape of water. My mermaid spirit connects to the rhythm of the tides and the movement of creeks and streams and is open to letting all that life offers flow in.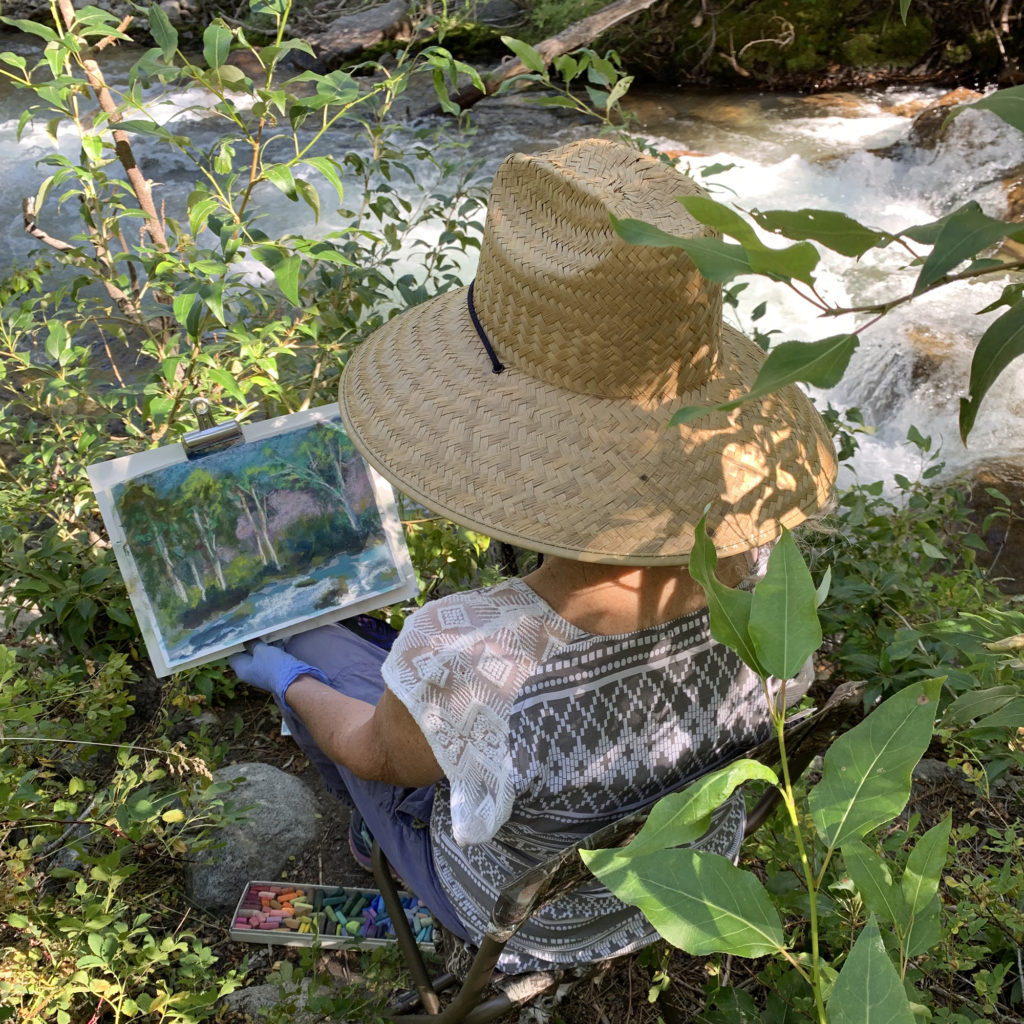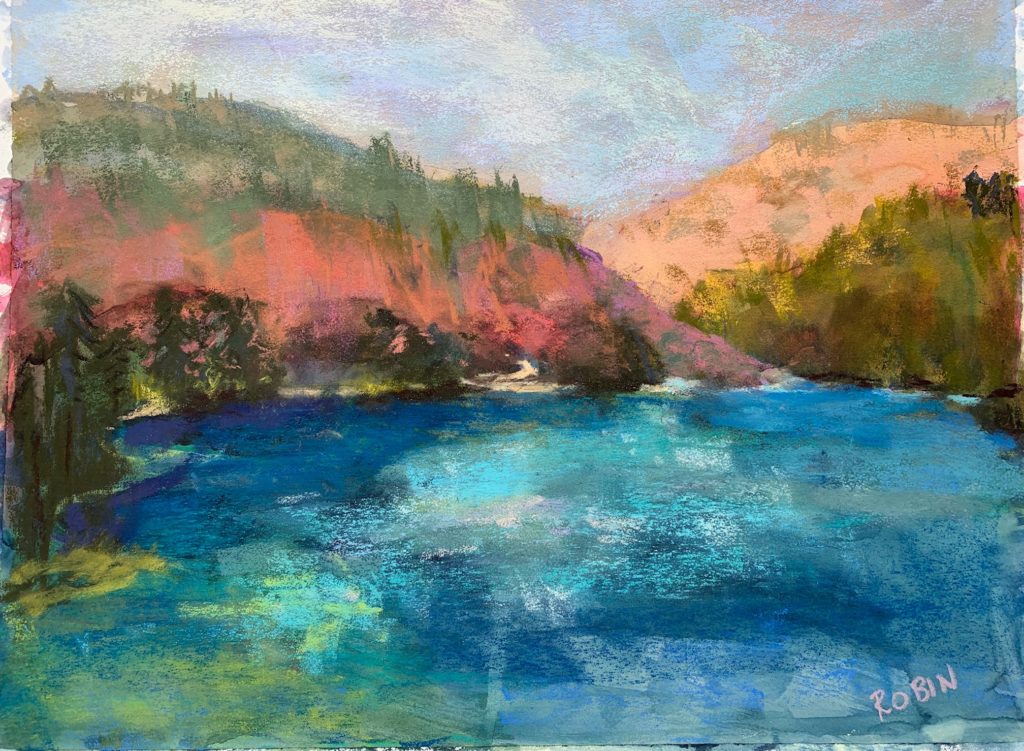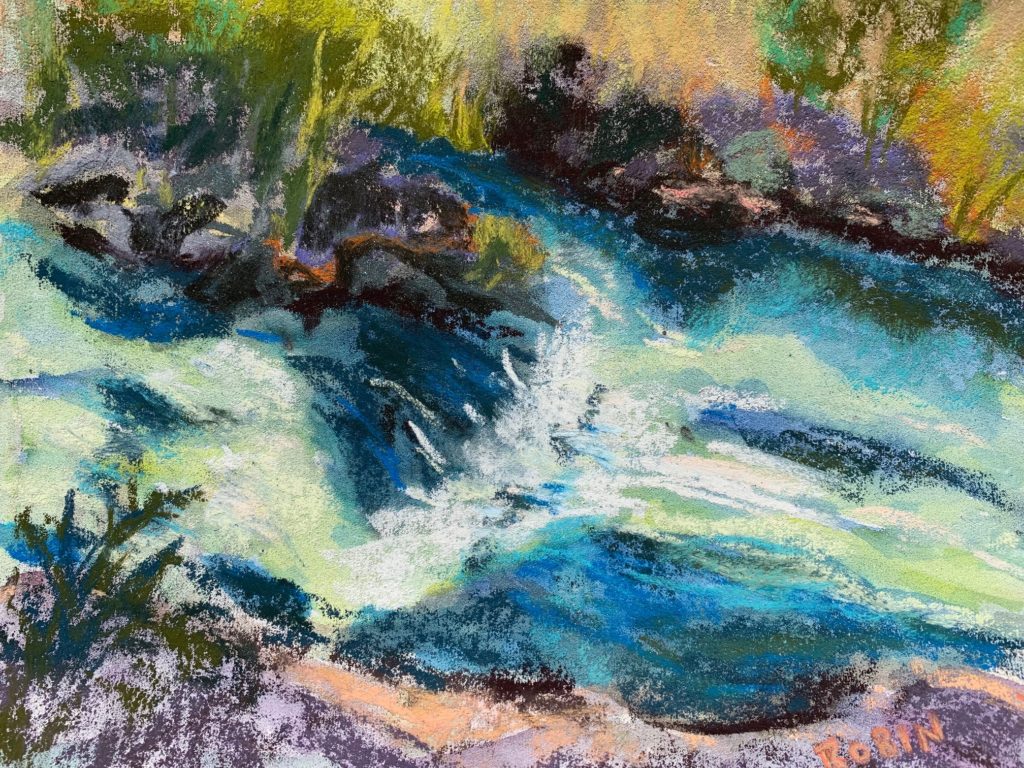 See more original art here.