Spending time tearing images out of fashion magazines and arranging them into a collage has always been a guilty pleasure, so imagine my delight when I could create a course where I was paid to immerse myself in all things fall fashion.
I just finished teaching my  class, Wardrobe Planning:Beyond the Basics, at SRJC. My favorite thing about teaching is how much I learn from my students. For those of you who were not able to attend, I'll share a few of the highlights.
First of all, here are the concerns of the participants:
How can I find updated styles that fit my petite, pear shaped figure?

Try hellbunny.com.
I've just retired and am not sure what to wear now. My former weekend look is too sloppy for everyday.
Break out of the denim and black leggings rut with these colorful alternatives or  put away your down vest in favor of a sleek sweater with a long necklace. 
I love wearing skirts and dresses but hate panty hose. Are there warm tights that don't feel constraining or itchy?
Try these Fleece Lined Leggings or for style I like Memoi!
Where can I shop where I will actually get someone to help me?

Try a small boutique or for challenging basics try an appointment with an in-house personal shopper.
What brands of shoes are comfortable but still stylish?

Simons Shoes is great for online browsing! 
How do I make choices that have the least environmental impact?
 Join the "Will I wear it thirty times?" campaign. Click here to find out more.

Can you relate to some of these issues?  The best way to meet your needs, develop your personal style and lessen your environmental impact is to choose only clothing you will love wearing.
To discover what will most satisfy you, I encouraged students to step away from problem solving and engage their imagination, to connect with their essence and see how it wants to express itself. This process is both useful and inspiring. 
The images for my own lookbook were surprising. Fitted denim has been replaced with lots of skirts with movement and flow. But how to make that work for my lifestyle when my challenged feet demand shoes with arch support? 
This photo of beautiful Michelle Pfeiffer wearing a simple flowing dress with heeled utility boots caught my eye.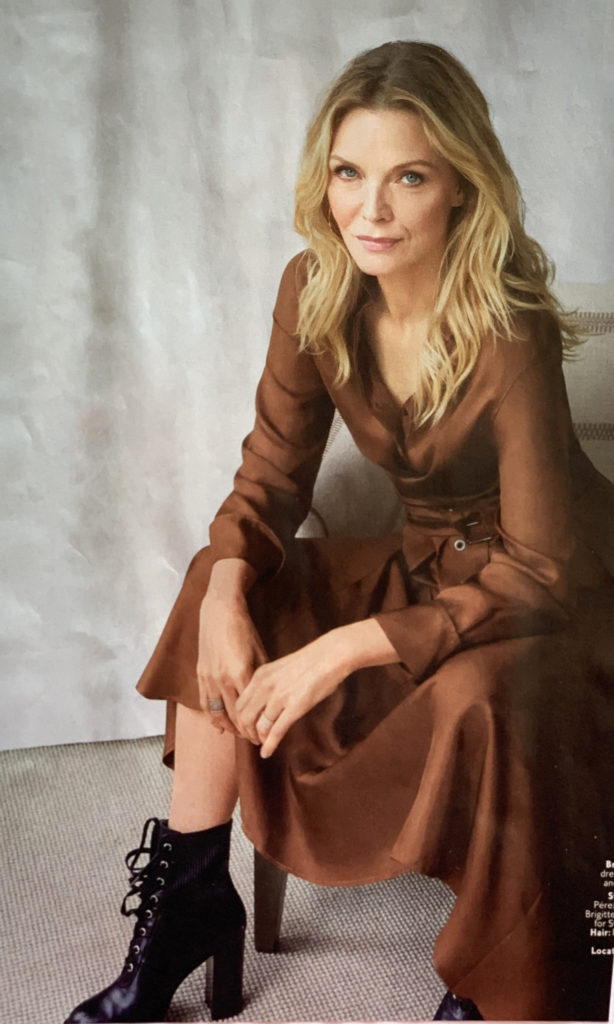 First step, utility boots. I tried this version from comfort brand Earth. But I preferred this boot from Fly London. Other comfort shoe lines with built-in support include Vionic, Dansko, Naot, Ecco, Gabor, Aetrex.
As I age I find I don't mind looking older as long as I look cool. The tough boot mixed with dresses feels right for me this season. I used to want a beautiful, elegant shoe to complete my look, but time and nature has changed my perspective. Look at these crazy combinations from Alexander McQueen.  
I talked to my class about the concept of opposites, yin/yang, or how to add interest to your look with a mix of elements or surprises ( see page 73 of Growing More Beautiful for more about this) If you are curvy, try an angular neckline, if tall and large boned experiment with delicate accessories. Be curious. When you look through magazines and catalogs pay attention to the unexpected images that catch your eye.
This tunic from the eco clothing line Indigenous  is an ideal fall transition piece. In addition to being a flattering style and gorgeous teal color, the angular hem that ends in a fishtail is an interesting element. It is expressive and unusual, but most importantly, it has the three key qualities we need in our clothing so they work for us. They are:
Comfort: The jersey is stretchy, the tights are soft and the Vionic sandals have great arch support.

Layerable: I can wear it with

 

a light sweater now and as it gets colder can add a jacket and boots.

Lifestyle: The tunic is washable and can be worn for both work and play. It's also a great backdrop for interesting jewelry.
If you love how a garment looks but want to be sure you will get plenty of wear out of it, ask yourself if it meets the above three requirements. 
If you have a specific question leave a comment and I'll do my best to answer it. For individual attention, book a style update session. We will focus on where you are now, what you need,  imagine what it could look like and suggest locations where to find it. Small group sessions are also available.