Step Away From the Cashmere:
Fall Fashion in a Pandemic
Fashion hardly seems meaningful when your smile is covered with a mask. The stress that shows in your face and body makes looking in the mirror a lot less enjoyable. We're still in the middle of fire season, the end of the pandemic is nowhere in sight, and the upcoming election has us all on edge.
So why care about your appearance? Why care about clothes, fall/winter fashion and shopping? Seriously? Isn't that kind of irrelevant and frivolous?
I've asked myself this and the answer is: I'm still here. I'm still me. And I don't want to lose myself.
Keeping up your morale during these difficult times is another way to look at it. You want to do all you can to be kind and loving, not be overly critical of the extra pounds, and use caring for your appearance as a way to nurture yourself. If you aren't motivated at the moment, think of your positive role as leadership. Keeping yourself afloat will help your sisters do the same.
I couldn't help but feel the excitement when the first new fashions for fall made their appearance. I saved photos of the outfits I saw online, and ripped images out of catalogs that caught my eye. It wasn't long, however, before my focus narrowed to what I actually needed to get through the months ahead in comfort. One of the benefits to wardrobe planning now is that there is no fantasizing about what we might be doing. The reality is starkly clear, and that makes our choices fewer and easier.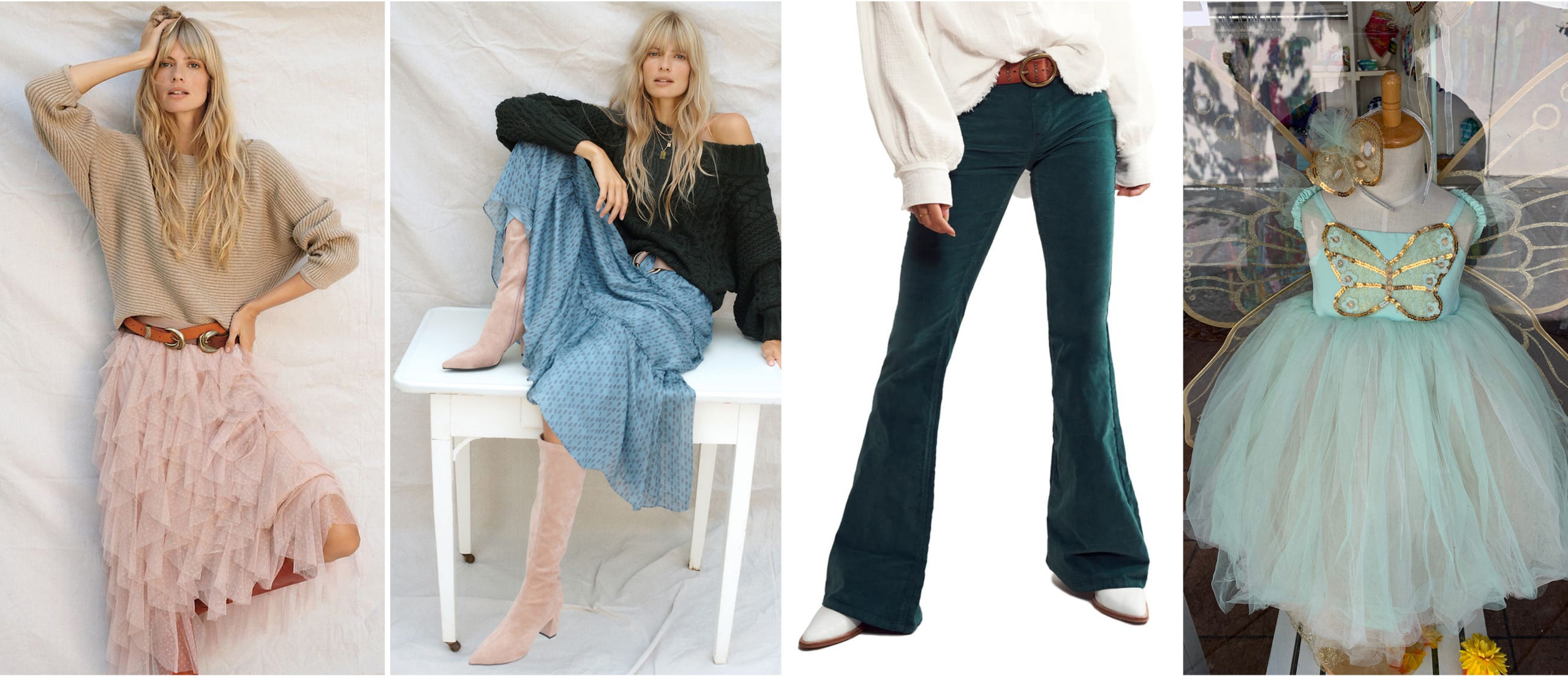 The only thing I truly "need" is sweatpants, and I want these leisure pants that I'll wear all day to be super comfortable and flattering.  I won't have the distraction of throwing on a leather jacket and great boots so they had better be just right with a simple top.
As I was thinking about the best way to acquire these mythical sweats, clients started asking for advice on how they could get what they needed too. I've researched both online and in store options. Below is my report from the shopping trenchers.
Online:
It's so depressing to feel hopeful about a garment only to have it arrive and be disappointed, then go through the hassle of returning it. I can help you shop online more successfully by effectively targeting what you need and where to find it.  I know how most of the manufacturers cut and size their garments. You can also call customer service and ask for help deciding on a size, and the reviews are often helpful. Two companies I like for sturdy casual clothes are Pact and  Toad and Company. If you have fallen into the abyss of too much online shopping, finding satisfaction can help you move forward.    
In-Store:
Stores and fitting rooms in my area are open, and it is a thrill to once again be surrounded by clothes and be able to try on garments, even with a mask. Obviously, this takes the guess work out of sizing, and you have the opportunity to familiarize yourself with the brands that work for your body. If you need additional colors or styles later you can order successfully online. I took my client Julie shopping last week, and I spent considerable time on strategic planning. We had a very specific wish list, and my goal was to spend no more than thirty minutes in any store. We went early on a weekday morning and the stores were virtually empty.
The downside was the temptation. It was so much fun that it was easy to forget that there would not be many upcoming occasions to wear anything new. Our motto became: Step away from the cashmere.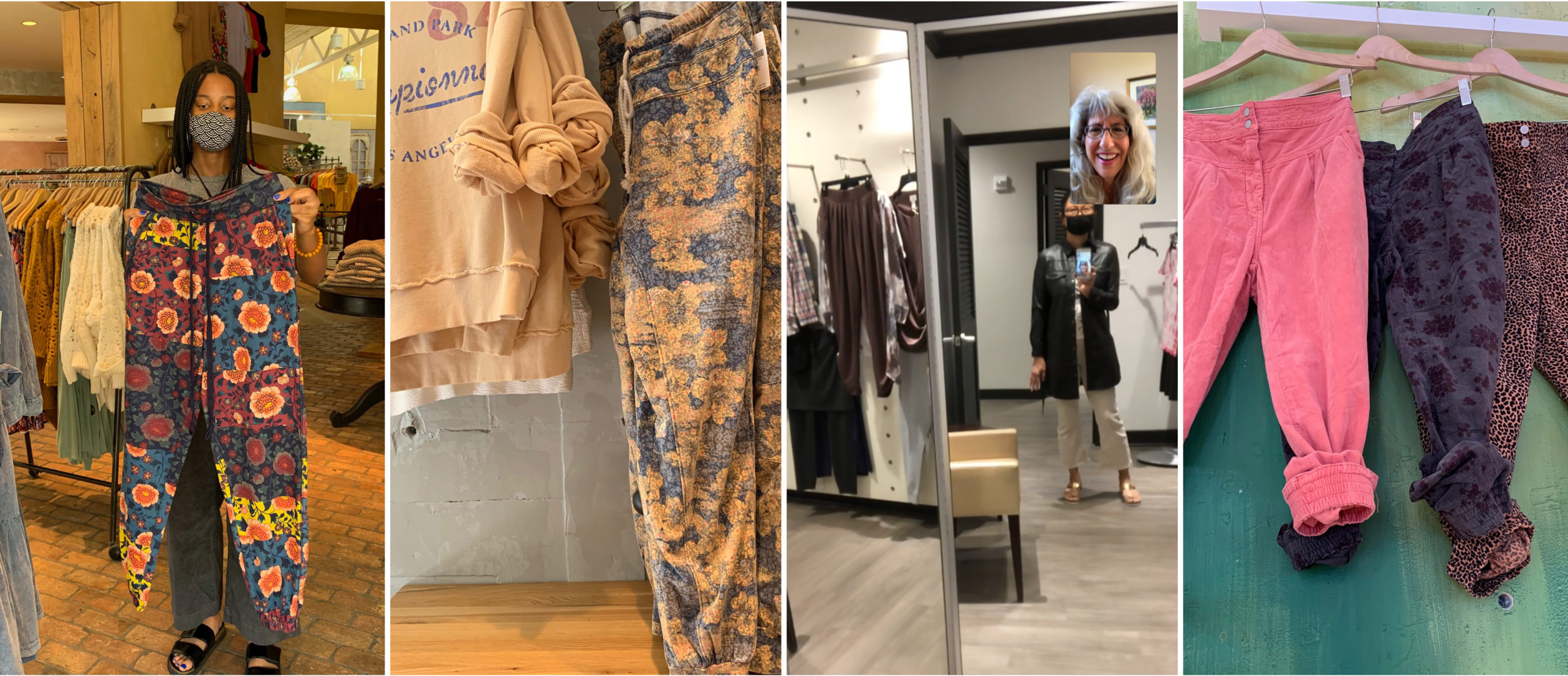 Hybrid:
I used a personal shopper at Nordstrom to pull jeans in advance for Julie to save time and frustration. They offer free shipping and curbside pickup as well. For my sweatpants search, I FaceTimed with my longtime personal shopper at Macy's, Lea Perez, and she strolled through the store with me virtually in tow. You can reach her at lea.perez@macys.com. I stopped into Athleta and watched one of the employees do a virtual appointment with a customer and it looked quite thorough. The store manager said they are skilled at knowing what size you need. Cool.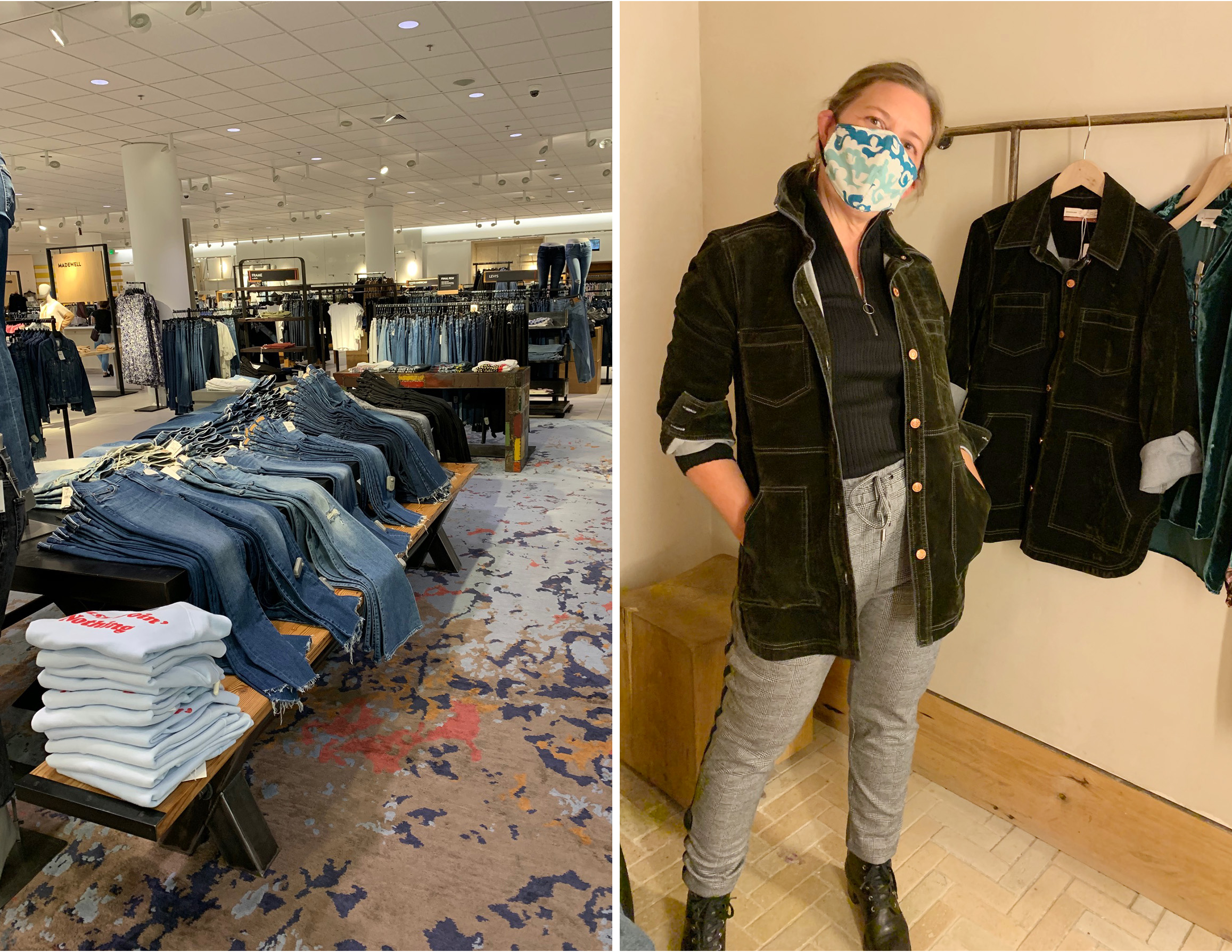 So, ta ta-da, the winner of the sweatpants competition. I tried everything from Eileen Fisher (too expensive, too big) to Costco online (not satisfying). The winner, moderately priced thermal performance pants from Calvin Klein  (bootcut, pockets, high rise) wasn't too surprising as I wear that brand often. Click here to shop them.
If you want advice on where to go, reply to this blog or leave a comment and I'll be happy to answer if I can.
If you need more comprehensive help, contact me for an appointment at beauty@growingmorebeautiful.com.
Envision feeling good about yourself when we emerge from winter into a beautiful spring. Beauty is essential. Taking an artful approach that combines color, beauty and creative self-care can help you continue to find light in the darkness.