Just as I was putting the finishing touches on this blog celebrating the jubilant return to in-person appointments and my delight in seeing smiling faces once again, the new phase of "masks required" was announced. Knowing we are once again facing COVID uncertainty is discouraging and depressing.
The health situation that dramatically impacts all aspects of our lives seems to be changing daily. In spite of the uncertainty, summer is in full swing. I'm enjoying August, the month of easy summertime beauty, of lightweight dresses and sandals, of juicy lipsticks bursting like peaches and tomatoes. Everywhere I look I see people savoring the moment.
Despite the challenges we face, there is daily pleasure in caring for our appearance. The connection to color, beauty, and essence is always available to us. I started teaching An Artful Approach for Personal Style in late March when widespread access to vaccines was still off in the distance. Nonetheless, my students responded to the idea of artful self-expression with enthusiasm and creativity. Excitement about  "look-books" filled with painting and imagery caught hold. Participants asked for a group Facebook page where they could share ideas.
Together we were inspired by dozens of images of spring fashion that I had captured from the internet.  The new wave of body diversity made it easier for all of us to find something to relate to. Although I was limited by the slow recovery of my broken ankle, by May I couldn't wait to get back out to the stores and try something new. During the months of shelter in place I longed to wear the clothes that hung neglected in my closet, but when I tried them on I was dismayed. They looked weary. If clothes could look exhausted, mine did.
The waistbands on all my pants and skirts were also too tight. It was time to go back to work in my clunky athletic shoes without anything I wanted to wear. It was the perfect storm for obsessing over clothes and I delighted in going a little crazy. Judging from how much merchandise sold out in the stores, I wasn't the only one.
Whatever fit, financial, health, or lifestyle challenges you are experiencing you can create pretty outfits that will satisfy you. We all want comfort and you don't have to wear sweatpants to find it. I'm wearing elastic waist garments and Brooks walkers and still feel sassy and stylish. Creativity, imagination, persistence, patience, and support got me, as well as my students and clients, to this happy place of taking pleasure in warm weather dressing.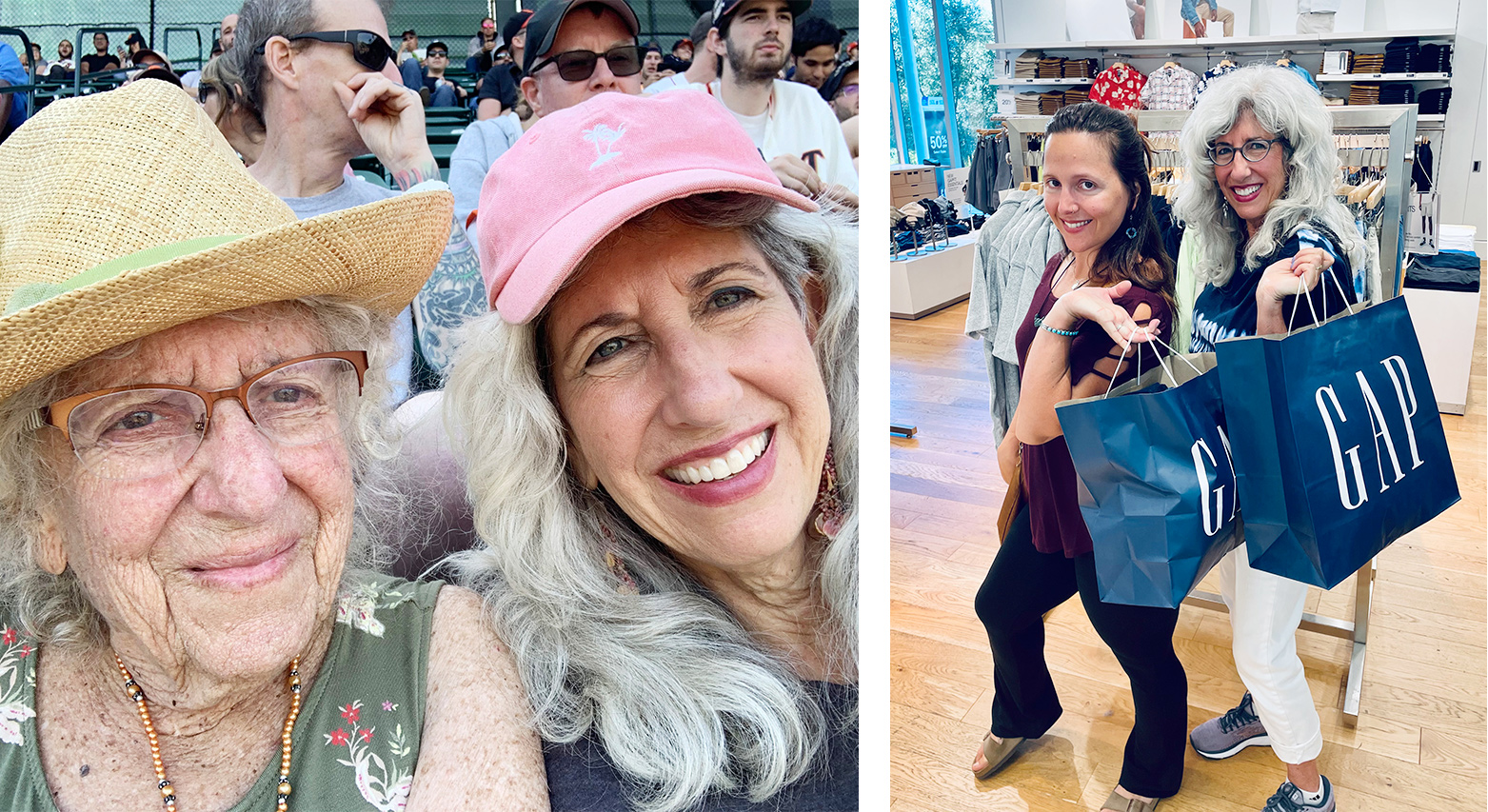 If you are hanging back wearing the same three tops you've worn on Zoom for months, here are some suggestions to get your energy flowing again… Stay focused on what you need and find a way to make it fun. Something just right for you – beautiful, comfortable, stylish, and practical is available but you need to have extra flexibility and patience while you search for it.
Growing More Beautiful Rule #1:
Don't wear clothes that are too tight in hopes they will help you lose weight. It just makes you feel bad about yourself. Also, don't allow body or aging shame to make you feel the need to cover up. It's hot out. Stay cool. Check this out if you suffer from SAD (sleeveless aversion disorder) or BFD (back fat despair) 
Additional Tips For Feeling & Looking Your Best:
When you gain weight you can't necessarily just jump up a size so you may need to rethink alternatives. If the waist feels too tight and confining, try an easy-fit dress or pull-on jumpsuit. Drawstring pants and stretchy bras aren't just for lounging at home. Manufacturers have realized women want ease and are tired of joggers so there are a plethora of comfort options available now. Be open to new styles.
If a store you frequent for a specific garment doesn't have it, look online. Stores are nowhere close to being fully stocked and with so much on sale now sizes are even more limited. If you are frustrated with online shopping, go try on some garments for inspiration. Success right now depends upon utilizing all options available.
If you see something you love, order it promptly. If it goes on sale you can often ask for an adjustment. When in doubt about the size, order your usual size and one size up or down. Look at all the photos and read the reviews.
 If you are dismayed by how wrinkled a garment is is when it arrives, rinse it quickly and hang it to dry.
If you aren't ready to engage with actual shopping and prefer to wait, you can play with your "look-book." The chapter in Growing More Beautiful, " Creating a Collage of Images," is a helpful how-to, plus now I encourage the addition of painting. Here are the suggested supplies to help you get started. For camaraderie and information, group classes start again in October.
I expected stores to be bursting with merchandise by September, but now I'm not so sure. We're all learning to wait and see.
It's part of our shared experience to know what's true; purpose, creativity, beauty, love – and to remember that the moment needs celebrating.