Many of us valiantly continued wearing makeup under our masks through the first year of the pandemic, realizing we felt better sheltering at home with a touch of color brightening our faces. Unfortunately the last round of mask-wearing seemed to cause the most stalwart adherents to just give up.
We got used to looking at our faces without it, and maybe that's a good thing. I'm all for using any opportunity to reevaluate what is important. However, I was pleasantly surprised the first time I went out the door without a mask, hair styled and makeup happily (re)applied, that I hadn't faded away after all.
Masks may be with us indefinitely, but in honor of full facial freedom, this blog is to remind you how simple it is when you have the necessary products and tools within easy reach.  I hope you'll be inspired to open up a fresh bottle or tube of something luscious and pick up your brushes. 
Below is my basic step-by-step application.
If you would like further information about the product I'm using visit the makeup  or store section of the website.
Do your base first: give your clean face a minute to absorb your moisturizing sunscreen. Smooth on primer to even out the texture.
Using your fingers, dot foundation on the center of your face: a dab on the center of your forehead, nose, cheeks, and chin. Use your fingers, sponge or brush to blend the foundation up and out toward the edges of the face. Blend under and around the nose. Apply more foundation where you need it.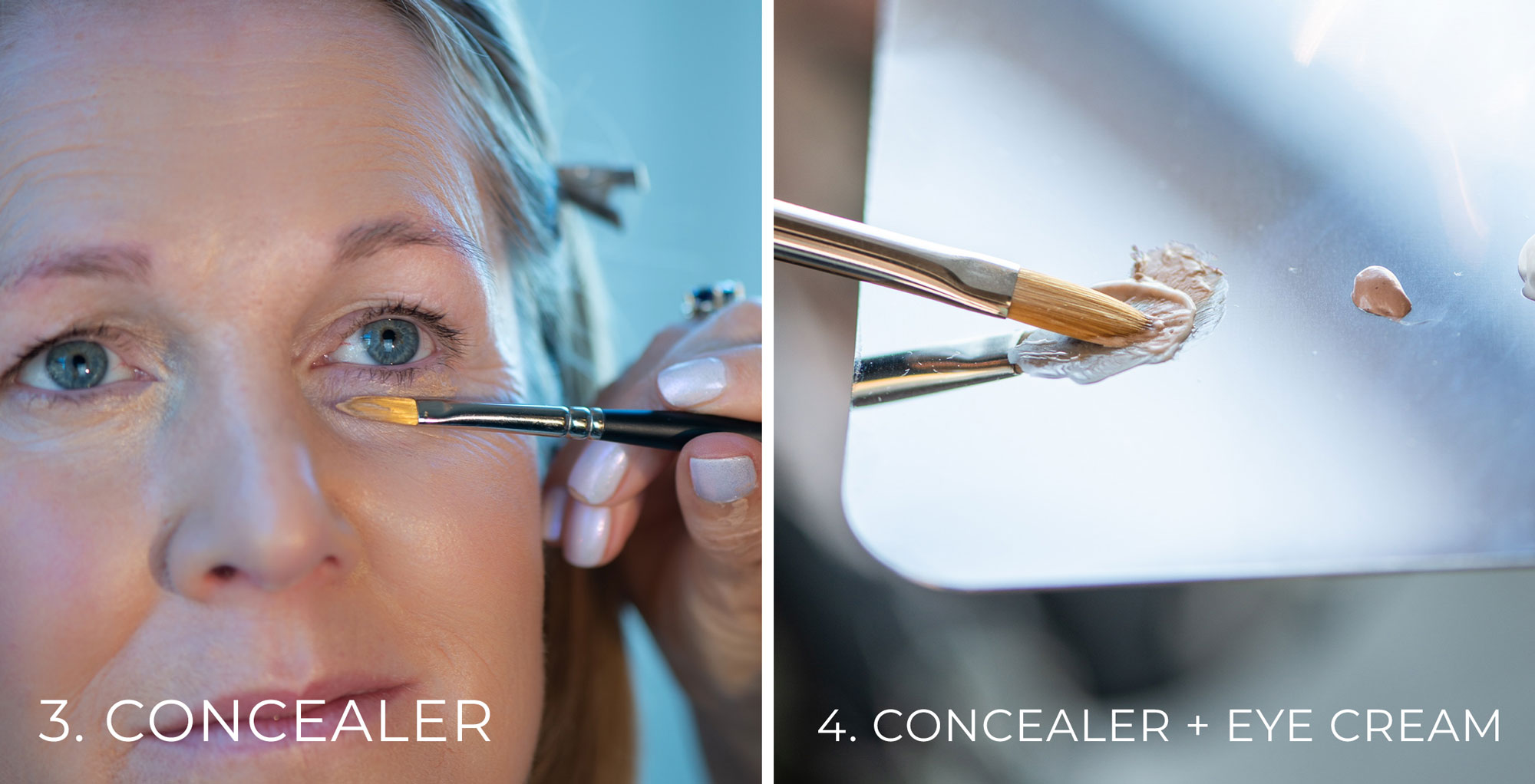 Concealer can be dabbed on with a wand or fingertips, but it works best blended with a brush. If you have problems with concealer sinking into creases or uneven patches, try mixing it with a tiny bit of eye cream.
For a natural glow apply cream blush along the cheekbone blending up and back.
Brow pencil, powder, or wand. It's okay if it looks dark to you now, it will balance out by the time you get to your lipstick.
The liner can be a pencil, liquid, or cake. Whatever is the most comfortable to use. I like waterproof for all-day wear. 
Next is very simple eye shadow: light on the lid, highlight under the brow, color over the liner. If you are an expert at shading, go for it! 
Mascara if you like. I avoid waterproofing except for weddings. 
Fill in the lips with liner for longer-lasting color, especially if prefer lipsticks that are hydrating rather than long wearing. 
That's it! If you don't need to fill in your brows or don't like mascara, skip that step. If you are in a rush don't bother with the shadow and lip liner. You decide what is a daily essential and what to save for special occasions. 
Questions? Ask them here. There are always exciting new products to add. Let me know if you are interested I'll feature a few of them next time. 
---
An Artful Approach to Personal Style: A Virtual Course
 My paintbox of practical tips will open your senses to the beauty of your inner life and outward appearance, and help make getting dressed a "daily act of creation." Discover a world of personal style and learn to project your essence with creativity and flair.
College of Marin
Fall 2022 Sessions
Wednesdays
October 19-November 9, 2022
1:30-3:30pm
Zoom Virtual Classroom