During the last half hour of my class on Artful Personal Style, I looked around the classroom and savored the excited buzz of my students as they shared their lookbooks. When class was over I packed up my wagonload of supplies and wheeled them back to my car in the pouring rain. Even in my sodden state I felt like celebrating.
As I savored the memory of a successful class, I thought back to the March day three years ago when I last taught in person. I remember hauling my props back to the car wondering if I ever wanted to teach again. During class I had noticed a student on her phone, not especially engaged in what was going on around her. Why was this time so much different? Did I have the interruption caused by COVID to thank for my joyful satisfaction?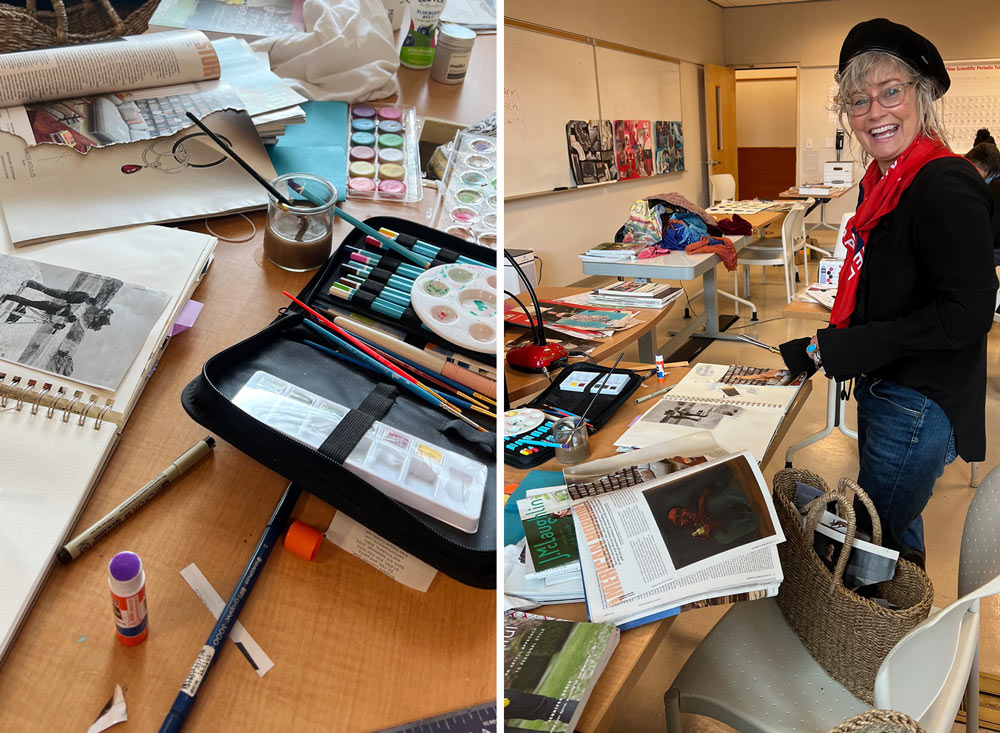 When masks first started coming off I was struck by how beautiful faces were, so alive and luminous. Existing virtually on Zoom flattened everyone into one dimension. I enjoyed offering my zoom style classes and learned a lot teaching them, but we can all agree it's just not the same.
It often feels like we are awakening from a deep slumber and still groggy. The cold, wet winter and COVID and viruses still circulating don't help. Yet, as the storm clouds rush past I feel the burgeoning of spring. I've written many times about my love for this time of year and how inspired I am to paint the green hills and blossoming trees.
I'm also inspired to start showing up. Jumping into teaching a class on spring fashion trends shook me out of my comfy jeans and sweaters mode. What I want to wear always begins with how I want to feel. If you want to stir up your hibernating love of creativity and dressing for self expression, here are a few ideas I shared in my classes.
FIVE TOOLS TO WAKE UP YOUR FASHION ENTHUSIASM
Look for INSPIRATION
Tune into color in art, nature and your environment. It gives you an immediate lift. Take a look at this color guide for bedding. 
Gather INFORMATION
Find new places to shop. What is available in stores has changed dramatically. Ask people whose outfits you admire where they are shopping. Schedule a quick phone, zoom or email consult with me and I'll direct you.
Spend some time ORGANIZING
Try doing a bit of seasonal reorganizing to remind yourself what you own. Think about your clothes in color capsules. It helps you to focus on the layers and the accessories you need to finish the outfits. I like to imagine going away on mini trips. What will I take with me for the weekend? Comfy pants, T-shirt, sweater, jacket, shoes, hat, jewelry; one or two colors keep it simple.
UPDATE
Has your size changed? Focus on that first. A knowledgeable sales person should make it painless. If you enjoy looking at trends, watch for what is new. Lilac is everywhere this season, as is soft green. Skintones and off-whites mix happily together. High rise pant legs are wider and tops are shorter and boxier. Not your thing? Get out your lookbook or create a virtual collage. There is something for everyone and anything goes.

Have an ADVENTURE
Make a lunch date and dress up. Wander into some clothing stores together. Get out and look around, chat with store owners. Congratulate them on surviving. Try on something completely unexpected. Ask for suggestions. Say to yourself, this is going to be really awful or really great. Laugh. What do you have to lose?
Take care and I hope to see or hear from you soon.