A good photo enhances the way you see yourself but a bad one diminishes your confidence. It's worthwhile learning how to improve the results because you've probably discovered that trying to look "natural" and hoping for the best doesn't really work. I've been working with photographer Deborah Parrish for a couple of years now, and professional photography has become one of my favorite tools for Growing More Beautiful. Developing a relationship with a photographer who is able to capture your essence, your sparkle, your uniqueness, is a gift. The professional studio experience translates into skills that improve your everyday candids and selfies. The more positive the experience, the more you shine. If you respond to the camera as your friend instead of the enemy, it shows.
When my client Kathy Bradley needed an updated head shot for her new website, I was happy to help. We met in advance to select her wardrobe and demo her makeup. On the day of the shoot I only needed to quickly apply her makeup before we headed to Deborah's airy studio.
As Deborah instructed Kathy how to angle her face and body for each pose, I took notes:
Lean into the camera like you are telling a secret.
Lean from the waist, not from your shoulders.
Imagine you are a puppet and strings are pulling your forward.
Lean against a wall lightly, don't sink into it.
Create angles with your body, preferably triangles. No straight lines.
If you touch your face, do it lightly or you will distort your features.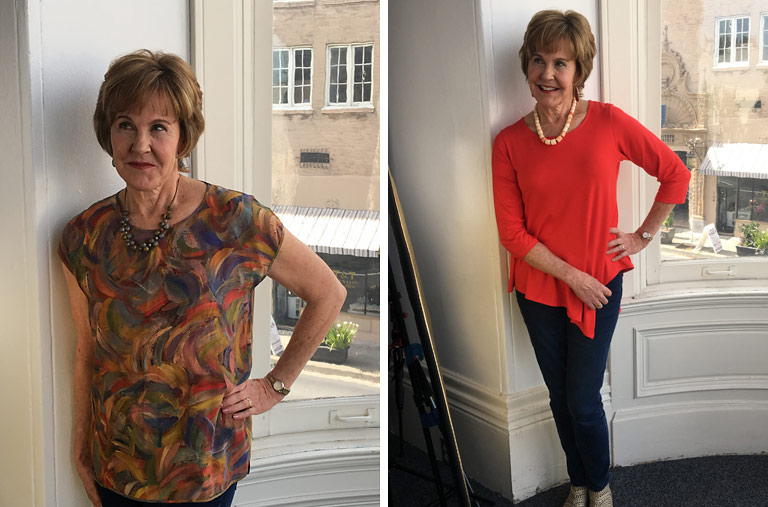 Deborah gave Kathy lots of specific instructions and encouragement. I know from my own experience as her model that what feels awkward can end up looking great. Even though I've always used photos of myself to illustrate my work, I've found Deborah's posing suggestions invaluable.
Kathy has a winsome smile, lots of confidence and was happy with the results. That isn't always the case. It can take time to get used to your current self, especially if the last time you had professional shots was senior year in high school. Look over the images a few times with curiosity about what you can learn instead of immediately hitting the delete button. Taking a good photo is a learned skill, one that improves over time with practice.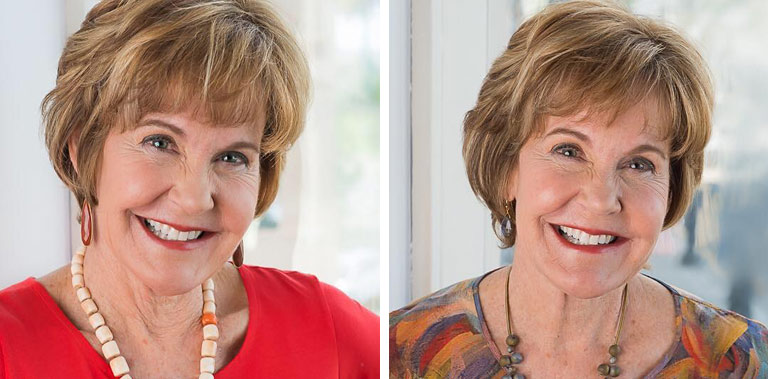 From my perspective as a stylist, all the little details matter. Take time to prepare. Here are a few of my tips:
Hi-def photography requires foundation and powder that provides coverage but still looks luminous. Features need to be enhanced but all lines must be well blended. You need more cheek color, eyeliner and brow and lip definition than you normally apply.
If you are wearing a color for a wedding or special occasion that isn't in your palette, adjust your makeup accordingly. Daria (below) doesn't have purple in her palette, but needed to wear it to her son's wedding. I used plum-brown blush and lip liner instead of her usual coral.
Consider the flattering qualities of both the color and neckline of your garments. Each outfit needs coordinating jewelry and lipstick. Write down the specifics of each clothing change so you don't get confused. Or put the accessories in a bag and attach to the hanger.
Discuss your hairstyle with your salon professional. A recent hair trim is important, and a manicure will help you feel polished.
Communicate to your photographer what makes "you" you. What do you love about yourself, and in what ways are you self-conscious? What are you hoping for in the finished shots? This is a good opportunity to use your "spirit terms."
Don't expect your photographer to "fix it" with editing. You need to feel your best to portray self confidence and shine from within.
Speaking of editing, a great pro corrects every image but keeps them looking natural. It's easy to touch up photos taken on your smart phone. I like the FaceTune app, especially the smoothing feature. If someone is taking group photos around a table, especially at a meal, don't pretend you don't see the photographer. Stop chewing and engage. And remember, good friends always delete bad photos of their buddies and NEVER post them on social media without permission.
If you are interested in a session with Deb and me, you can read more details here. Group workshops are also available, so gather up your girlfriends. I also have a backdrop in my home studio and I'm happy to do some practice shots and offer suggestions when you come for a makeup appointment.
For further tips about selfies, visit my blog post, Hey Beautiful … Look This Way.